The first aircraft in this walkaround series is one of the few still remaining of those used by the RNZAF. It was photographed while on display with the NZ Wing of the Confederate Air Force at Dairy Flat Airfield on Auckland's North Shore. It is now at MOTAT, and is undergoing a full rebuild to display standard.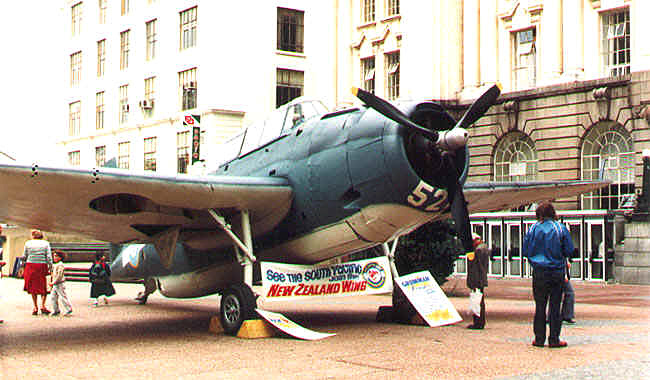 NZ2527 while on display in Queen Elizabeth Square, Auckland. It was the centrepiece of a recruitment campaign by the NZ Wing of the Confederate Air Force. (Via Dave Stewart)
It had been roughly repainted in an approximate operational scheme. Traces of the target tug Yellow and Black stripes are still visible under the paint on the undersides of the wing and fuselage.
Although painted up as NZ2527, a TBF-1C, it has all the characteristics of being a TBF-1 i.e. The cowl gun position, no wing guns, and the rudimentary controls in the rear cockpit.
For many years I suspected that NZ2527 was not its true identity, but recent correspondance with Shane Seymour of the Gisborne Aviation Preservation Society (GAPS) has provided evidence that many components from NZ2505 were swapped between these two aircraft before they reached their present 'owners'!
Many of the cowl components have come from NZ2505 including the cowl gun trough panels, and NZ2505 has gained the nose cowl filter 'bump' from NZ2527.
I understand that there are no plans to exchange these components back to their correct airframes!