Geoffrey Bryson Fisken was born in Gisborne on February 17th, 1916, the son of a station-owner. During the thirties he learned to fly in a DH60 Gypsy Moth.
In 1939 Fisken was working for a farmer in Masterton and on the outbreak of war, he volunteered for flying duties. As his job was a reserved occupation, he was not released until early 1940 by his employer for service in the RNZAF.
After completing his flying training at Bell Block, New Plymouth, and at Ohakea, he passed out in January 1941 as a Sergeant Pilot.
Malaya / Burma / Singapore February 1941 - February 1942
In February 1941 he was posted to Singapore, where he was attached to the RAAF at Sembawang for a conversion course on to Wirraways, and then on to Buffalos.
Two RAF squadrons, 67 and 243, were in the process of being formed at Kallang, and Fisken was posted there. These embryo squadrons had only a few pilots (mostly New Zealanders, with RAF Commanders) and did not form into separate units until more personnel had arrived from New Zealand where they were in training.
In October 1941, Fisken was moved to Mingaladon, in Burma, with 67 Squadron but returned a few days later to Kallang to serve with 243.
After the Japanese invaded Malaya on December 8th, 1941, the squadron was quickly into action. Fiskens' aircraft was a Brewster B339E Buffalo serialed W8147 and coded WP- O .
One Ki-27 claimed on January 12th, 1942.
One 'Zero' claimed on January 14th, but aircraft damaged when the Japanese plane exploded underneath. W8147 apparently was not badly damaged, as Fisken flew it again on January 17th when he claimed a G3M, and shared in the destruction of a further two G3M's.
On January 21st, again flying W8147, he claimed another 'Zero'.
(W8147 was shot down later on the same day when being flown by another pilot, Sgt. Victor Arthur).
By the end of January, 243 Squadron had virtually ceased to exist as a unit due to severe losses, and the surviving pilots, Fisken amongst them, took their aircraft and attached themselves to 453 (RAAF) Squadron.
On February 1st he claimed a 'Zero' while flying W8237.
On February 6th, he claimed a further 'Zero' while flying W8143, but was wounded in the arm and leg during this action, and soon after was evacuated from Singapore.
Note: In this theatre, almost all aircraft claimed as 'Zeros' were in fact Imperial Japanese Army Ki43 'Oscars'.
(453 Squadron retired to Batavia in Java, in February 1942, and the remaining personnel eventually reached Australia, disbanding on arrival at Adelaide on March 15)

BREWSTER B339E BUFFALO W8147 (WP O)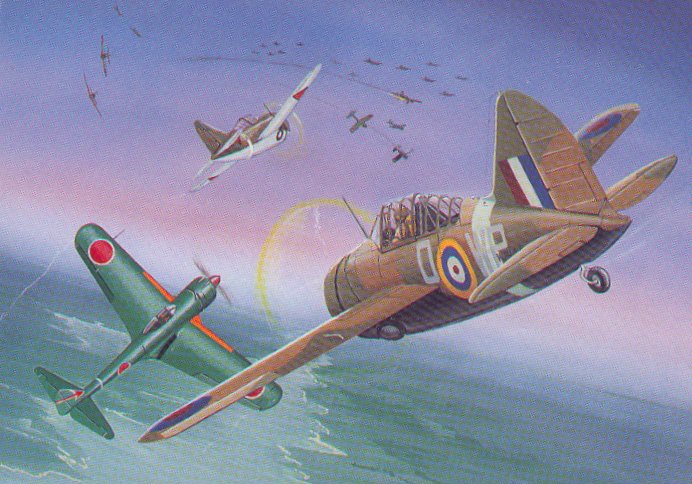 W 8147 from a painting by Chris Thomas on the cover of 'Bloody Shambles' Volume 1.
Colours were standard RAF Dark Earth/Dark Green over Sky. Squadron codes were Light Grey, with a Sky fuselage band. Serials were Black.

All roundels were standard RAF types, 'A1' type on the fuselage, 'B' type on the upper wings, and 'A' type on the wing under surfaces. Many of these Singapore based Buffalos had the wing under surfaces painted in a half Matt Black/Sky scheme, but I can't confirm whether Fisken's a/c had this scheme.
Pacific - April 1943 - December 1943
In late March, with other Kiwi pilot survivors from 243 and 488 Squadrons, Fisken returned to New Zealand. After a short stay at Wigram in Christchurch, he was posted to Ohakea.
Fisken along with some of the other pilots who had flown in Singapore and Malaya, were to provide a nucleus for the formation of 14 Squadron, the first New Zealand fighter squadron to be formed for service in the Pacific theatre. The squadron's first Commanding Officer was Squadron Leader John Mackenzie DFC who had served in the RAF. At this time, Fisken was commissioned as a Pilot Officer.
14 Squadron then moved to Masterton and trained on Harvards before receiving its Kittyhawks.
In April 1943 the squadron was posted to Espiritu Santo in the New Hebrides.
It moved to Guadalcanal on June 11th, and the next day, on its first combat mission, shot down six enemy aircraft, of which two 'Zeros' were destroyed by Fisken. Whilst patrolling over Rendova on July 4th he claimed another two 'Zeros' and a G4M 'Betty' bomber.
In September 1943 Fisken was awarded the DFC. He was then invalided out of the RNZAF in December due to the wounds he had received in Singapore.
He returned to farming, and still lives in the lower North Island area.
Fisken was the top scoring Commonwealth pilot against the Japanese, with his final tally of eleven aircraft destroyed and another five probably destroyed
NOTE: This text has been adapted from the notes on Geoff Fisken at the NZ Fighter Pilots Museum Web site: http://www.nzfpm.co.nz/
and from 'Bloody Shambles'Volume 1 by Christopher Shores and Brian Cull with Yasuho Izawa.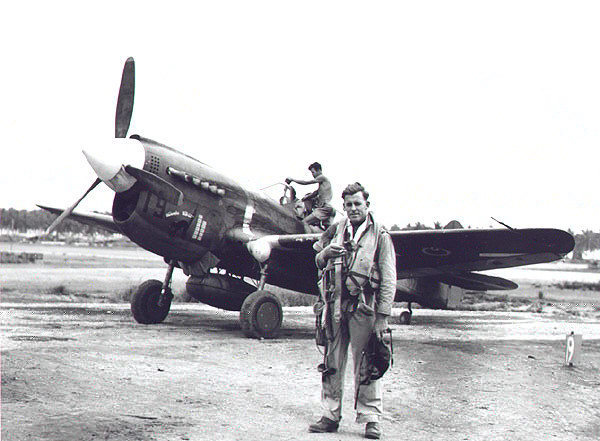 Flying Officer Geoff Fisken with NZ3072 at Guadalcanal, in 1943. Note: The RNZAF pilots used mostly American flying gear, but with the British 'Mae West' life jacket
.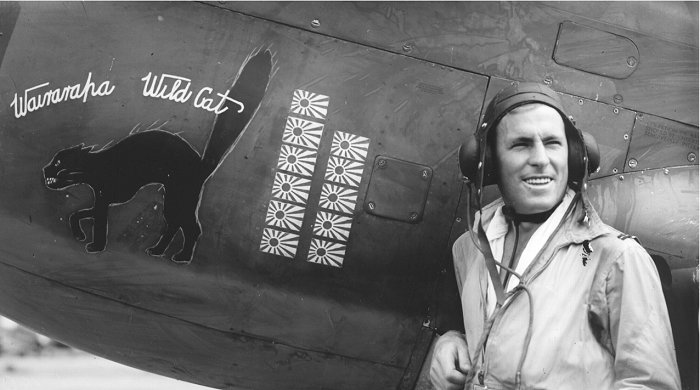 Geoff Fisken photographed alongside the cowl of NZ3072. The cats' outline was apparently added with chalk to enhance it for the photo. 11 victory flags appeared on the cowl, port side only. The cat and number '19' appeared on both sides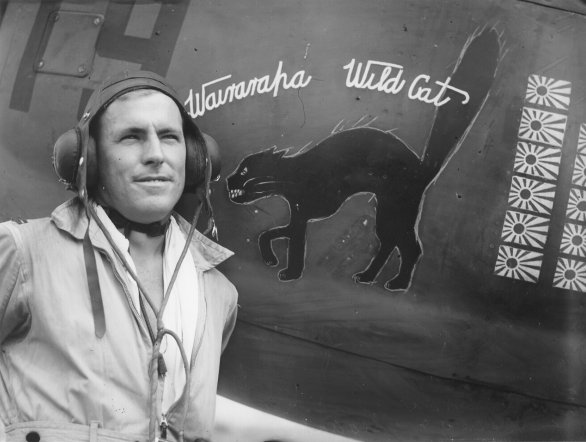 Another often published shot of Geoff and the Cat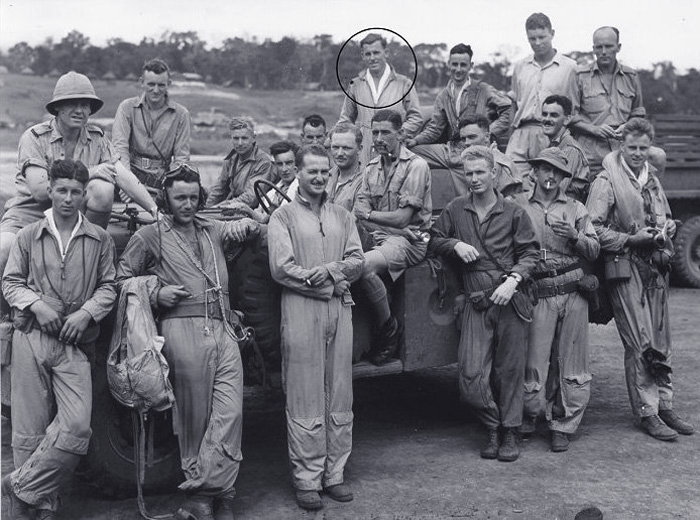 14 Fighter Squadron personnel, Guadalcanal, June/July 1943. Geoff Fisken circled. Note mixture of RAF and U.S. uniforms