Rabaul
The next phase of the operations in this area was to be the neutralisation of the large Japanese base at Rabaul, and to this end 15 and 18 squadrons moved to Ondonga on New Georgia.
At this time 17 squadron withdrew to Santo. 15 and 18 were formed into the RNZAF Fighter Wing to support the American landings on Bougainville, where captured airfields would be utilised to strike at Rabaul.
Kittyhawks of 4(Servicing Unit) at Ondonga on New Georgia. The aircraft in the foreground has been identified as P- 40N-1 NZ3121'K'. 'V' could either be P- 40 NZ3127 or P- 40 NZ3139.
Note: Tailplane area now White. White bars on upper wing roundels only, and RNZAF Blue centre to roundels.
Both squadrons flew standing patrols to support the combined American/New Zealand landings in the Treasury Islands, several claims being made by pilots from both while intercepting large groups of attacking D3A dive bombers and Zero escorts attempting to disrupt the landings.
On November 1st, the initial landings on Bougainville went ashore at Empress Augusta Bay, and 18 Squadron flew standing patrols over the beach-head that morning, surprising a large formation of 50-60 Zeros flying down the centre of the Island. Seven kills and one probable being claimed during this action.
During November and December, the RNZAF Fighter Wing continued to carry out standing patrols, coastal anti shipping strikes against supply barges, and escort duties with the American bombers operating over Bougainville. Over 1,000 sorties were flown during November alone.
With the development of airfields at Empress Augusta Bay on Bougainville, fighters equipped with long range tanks could now reach Rabaul and the New Zealanders took part in the first fighter strikes over southern New Britain with distinction. Strikes were also made carrying 100lb bombs under the wings.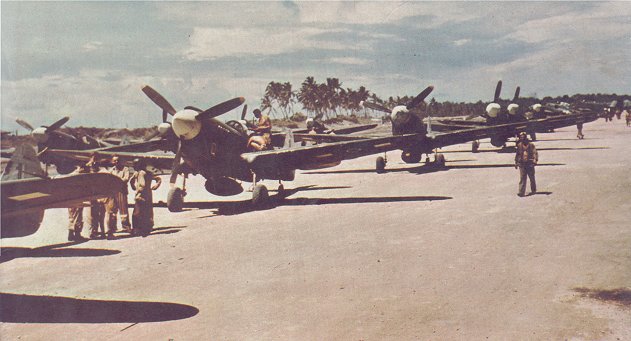 A rare colour photo of RNZAF P- 40's preparing for a strike - Note long range belly tanks
Around this time, 15 and 18 had been relieved by 14 and 16 squadrons, who on December 17th were in the vanguard of the first strike at Rabaul itself, accounting for 5 kills against the defending Zeros for the loss of two of their own pilots, one of whom was Wing Commander Freeman.
14 Squadron returned to Santo after this operation, and was replaced by 17 Squadron.
Both squadrons were to be heavily involved over the next few weeks with close escort sorties protecting B-24's, SBD's and TB F's, taking part in all major attacks on Rabaul. Their work was so much appreciated by the Americans that they were specially requested by them for this duty.

During this period, several claims were made by pilots of 17 and 15 squadrons.
Up to the end of January, the fighter wing flew almost daily, and 7 more enemy aircraft were claimed.
On January 22nd, 17 Squadron was withdrawn and returned to New Zealand for conversion to the F4U-1 Corsairs then arriving to replace the Kittyhawks.
18 Squadron moved up for their second tour, and it fell to them to make the RNZAF's last claims in combat.
On February 13th, while escorting TBF's of the US Navy during an attack on Vunakanau airfield near Rabaul, several of the escorting Kittyhawks guarding a straggling TBF were bounced by 25 Zeros. Two of these were claimed for the loss of one P- 40.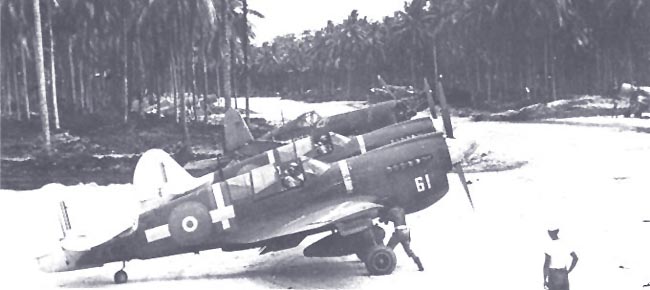 P- 40 N's sharing a crushed coral dispersal with U.S.Marine Corps Corsairs 'Somewhere in the Solomons' (probably Green Island)
Due to their losses at this time, and the 3rd NZ Division's landings on Green Island, the Japanese withdrew most of their 70 surviving aircraft (all that remained from over 700 Naval and 300 Army aircraft) to Truk, and the bombers never required fighter support from that time, anti -aircraft fire being the only opposition offered by the defenders.
The Kiwis then switched to a fighter bomber role, the Kittyhawks initially carrying one 500lb bomb in attacks on Rabaul township itself, and later one 1000lb bomb in sweeps with similarly armed U.S. P-38's and P-39's.
On March 8th, the Japanese forces still on Bougainville launched an attack on the Empress Augusta Bay perimeter, unsupported by air cover.
The RNZAF Fighter wing along with SBD's and TBF's attacked the troop concentrations the next day, helping to break up the offensive. 19 Squadron arrived at this time for their first tour, replacing 18 Squadron at Torokina.
19 and 14 continued their bombing attacks on Rabaul using 500lb GP bombs, 1000lb GP bombs and the less successful 500lb incendiary clusters.
Drop tanks filled with oil and petrol with an incendiary fuse were also used during this period until supplies ran out.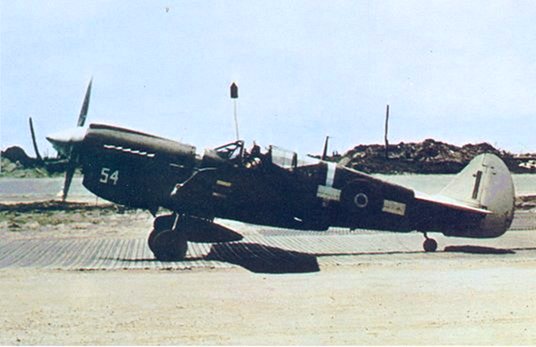 Another rare colour photo - A P- 40N at Torokina strip, Empress Augusta Bay, Bougainville, 1944
During the next three months, two squadrons at a time carried out a six week tour in rotation, bombing and strafing Rabaul and it's surrounding area, but the days of the Kittyhawk were numbered as the replacement squadrons were re-equipped with F4U-1 Corsairs, and the surviving Kittyhawks were flown back to New Zealand to be used for training, and then to Rukuhia and eventual scrapping.
Note: The RNZAF Corsairs were never to score a kill against enemy aircraft and the official RNZAF fighter squadrons' total remained at 99 confirmed, only one short of a century.
A few of the P- 40's remained with the gunnery training schools in New Zealand for a few years after the war, stripped to bare metal with black anti-glare panels on the upper fuselage nose.
Most met their fate with their other wartime brethren when sold for scrap from the aircraft graveyard at Rukuhia, and went to the melting pot (as did most of their Corsair successors!).
The irony is that rather more have survived (albeit in mostly derelict or under restoration condition) than the Corsairs of which only one mostly complete example survives in New Zealand.
Remaining are:
P- 40E-1 : NZ3009 (Now fully restored to airworthy condition, and owned by the OFMC), NZ3043, and NZ3094.
P- 40M-15 :NZ3119.
P-4ON-20: NZ3220 (The last of the 'Gloria Lyons' P- 40's, stored at Mapua, near Nelson).
Several other P- 40's survive in New Zealand although none are ex-RNZAF.