At this time, many were repainted in similar colours, but with the addition of Blue/White/Blue RNZAF roundels without White bars, in six positions. Those on the fuselage sides had a Yellow outer ring as per contemporary RAF fuselage roundels.
Fin flashes do not appear to have been added to these aircraft, but the last number of the serial was added in White to the fin and the nose cowl on some.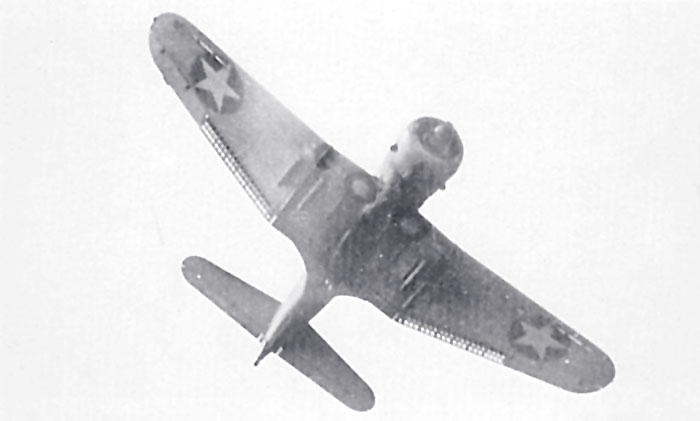 An underside view of one of 25 Squadrons' SBD's taken at Seagrove in August 1943.
The frequency of flying training was increased during December, and to mark the completion of their training, a formation of 18 aircraft flew over Auckland on the morning of January 6th, 1944. This was the largest formation of aircraft ever seen over the city.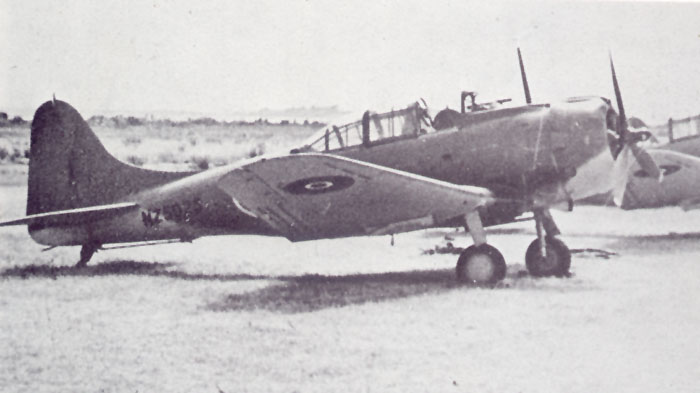 SBD-4 NZ5025 after repainting. Note demarcation on cowl, and RNZAF roundels in six positions.
25 Servicing Unit was sent forward to Pallikulo on Espiritu Santo in the New Hebrides Islands to prepare SBD-4 's obtained through 'Lend-Lease' for the arrival of the aircrew and the beginning of their operational training. These Aircraft, NZ5028 - NZ5045, were also ex-USMC and were in poor condition.
They were in the then current U.S.Navy 4 tone scheme of Semi-Gloss Sea Blue wing and tailplane upper surfaces, N.s.Sea Blue upper fuselage, Intermediate Blue fuselage sides and fin, and Insignia White lower wings, tailplanes and fuselage. RNZAF Blue/White/Blue roundels (Yellow outer rings and White bars on the fuselage roundels only) were painted over the 'Stars' in six positions.
On January 30th, 1944, the aircrews of 25 Squadron were flown north to Espiritu Santo in aircraft of 40 Squadron, and began their first operational training flights the next morning.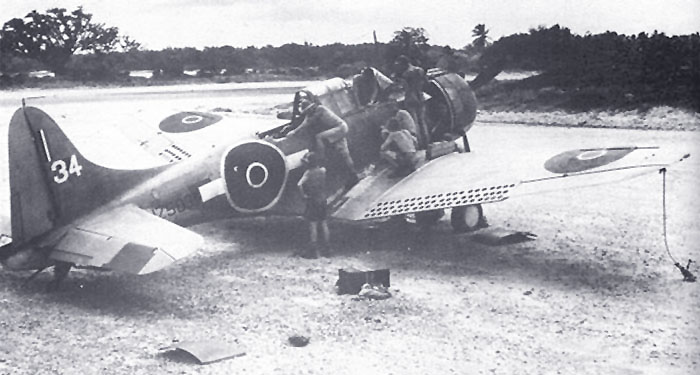 SBD-4 NZ5034 being serviced by 25 (SU) at Pallikulo on Espiritu Santo. Note the size of the RNZAF roundels which have been painted over the US 'Stars', the White bars added to the fuselage, and the narrow RNZAF fin flash. The wing roundels do not appear to have White bars added.
Many sorties were carried out including several large practice strikes along with aircraft from MAG-11, MAG-12, MAG-21, and 30 Squadron RNZAF with their Grumman TBF-1c Avengers (who were also carrying out their operational training), and escorting fighter aircraft from various Marine Air Groups.
All these aircraft except for NZ5037 (which went missing on a training flight on February 11th with F/O Alexander Moore and his gunner, Flt.Sgt. John Munro aboard) were handed back to the Marines at the end of February, early March 1944, when it was realised that these SBD-4's were not suitable for operational use
NOTE: NZ5037 was found in 1987, and the remains of the airframe were brought back to New Zealand. NZ5037 was displayed in a diorama at the RNZAF Museum at Wigram in Christchurch, but I now understand that it has recently been sold. (See Phillip Treweeks www.kiwiaircraftimages.com/ for photos of the display, and further notes on the RNZAF's SBD's).
New SBD-5 aircraft were then obtained from the Marine Corp stocks (NZ5046-NZ5063), and these were operated from February 19th in their Marine markings, but by 25th February had been repainted with RNZAF roundels in four positions, and RNZAF serial numbers. Most also had nose art applied at this time. All appeared to have the large pneumatic tailwheel fitted to land based USMC aircraft.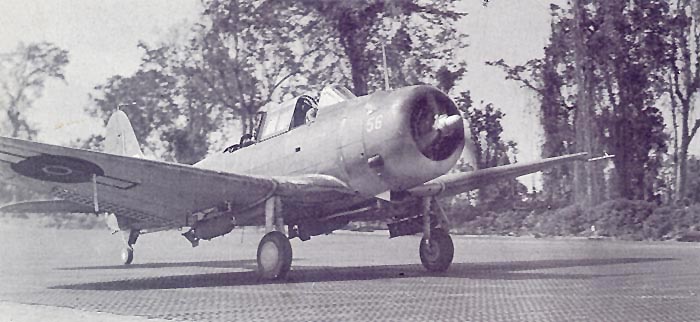 SBD-5 NZ5056 'Paddy's Mistake' at Piva strip on Bougainville. Armament is 3 x 500lb bombs.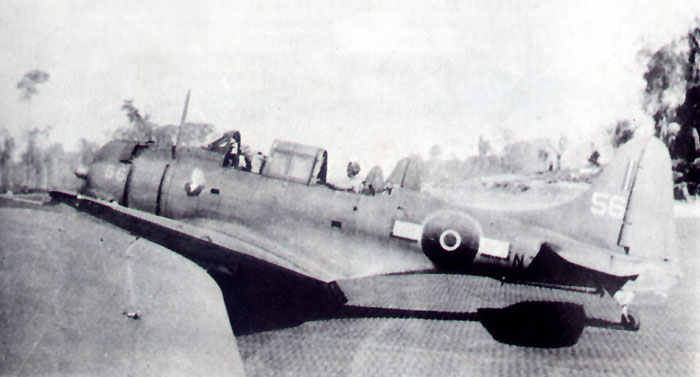 A further shot of NZ5056 showing the nose art.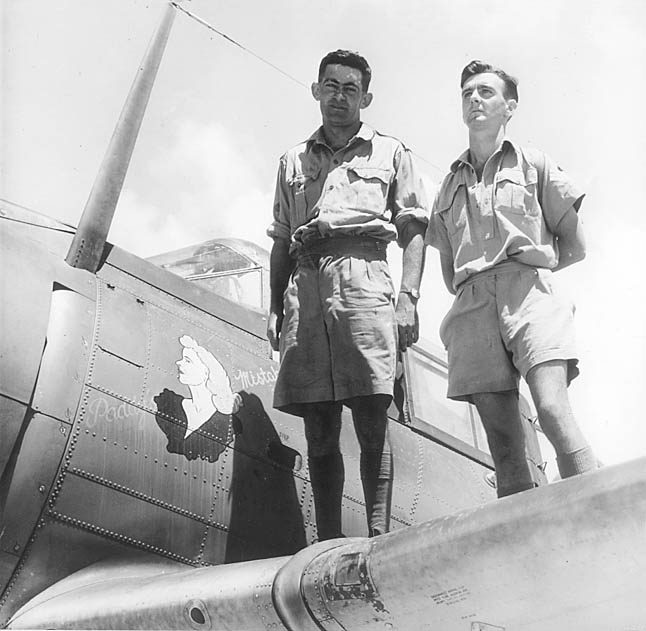 The crew of NZ5056 'Paddy's Mistake'. Flight Sergeant C.N. O'Neil (left) , and Flight Sergeant D.W.Gray. (RNZAF via Gwyn Avenell)
On the morning of March 22nd, eighteen aircraft left Pallikulo for Henderson Field on Guadalcanal in the Solomon Islands. They were escorted by four PV-1 Venturas of 9 Squadron RNZAF, and a C-47 Dakota from 40 Squadron. After a five hour flight, they all landed safely except for one aircraft (NZ5055) which was forced to swerve off the runway and hit an oil drum. The aircraft had to be written off.
The next day the aircraft set off for Piva on Bougainville, where the next morning, their first operational sorties were carried out directly on the perimeter, due to the massive Japanese attacks on the Marine defenders in the area. The ground crews of 25 (SU) were able to watch 'their' aircraft take off, carry out their missions in full view, then come in and re-arm for another strike.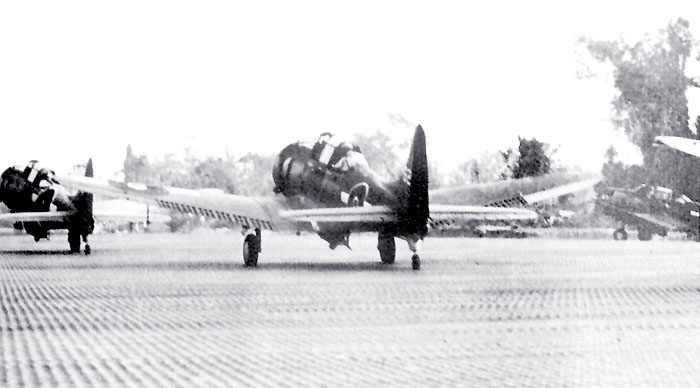 RNZAF SBD's leaving Piva for a strike on Rabaul. Rear aircraft is NZ5062, the only surviving RNZAF SBD-5. Aircraft are armed with 2 x 250lb and 1 x 500lb bomb.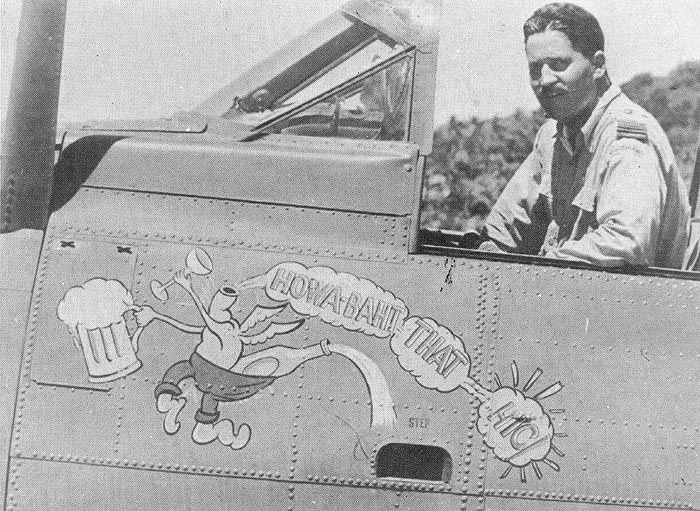 The Commanding Officer of 25 (Dive Bomber) Squadron, Squadron Leader T. J. McLean de Lange, in the cockpit of his SBD-5, NZ5057. This photo gives a good idea of the riveted construction of the Dauntless, and of course, a good shot of the nose art.