Except for 1 Squadrons' first tour, all aircraft were 'owned' by the servicing units, and issued to the squadrons as needed. Nose art was therefore only to be seen on No.1's aircraft, and then only a few appear in photos.
As mentioned earlier, most of the Disney cartoons were painted over on operational aircraft, and this appears to also have been carried out on NZ based training aircraft. There were a few exceptions as illustrated below.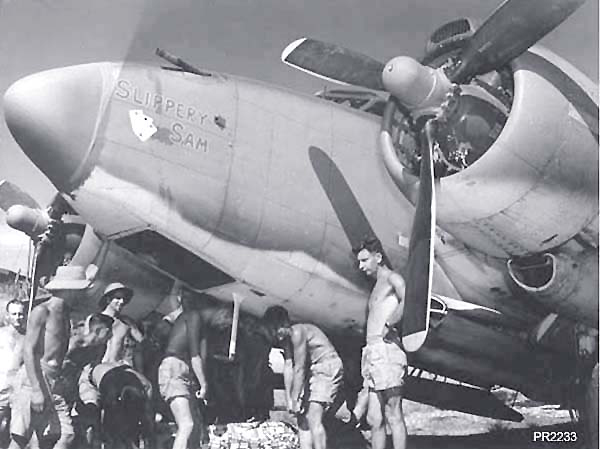 Armourers of 1 (BR) Squadron loading a decorated bomb, Henderson Field, Guadalcanal, October 1943. Nose art appeared on both sides of NZ4512. Lettering was Yellow with White outline (or from another source, Red with Yellow outline) - cards were White with Red Hearts to front and Diamonds at rear - Clubs in centre were Black. Note overpainting of nose cone with fresh N.s.Sea Blue or Intermediate Blue.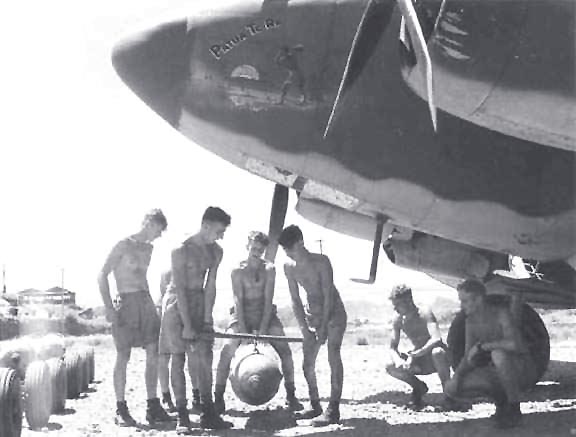 Ground crew of 10 (SU) bombing up NZ4516, Henderson Field, Guadalcanal, December 1943. This aircraft was normally flown by F/Lt.. Spicer of 1(BR) Squadron. 'Patua Te Ra' translates as 'Striking the Sun'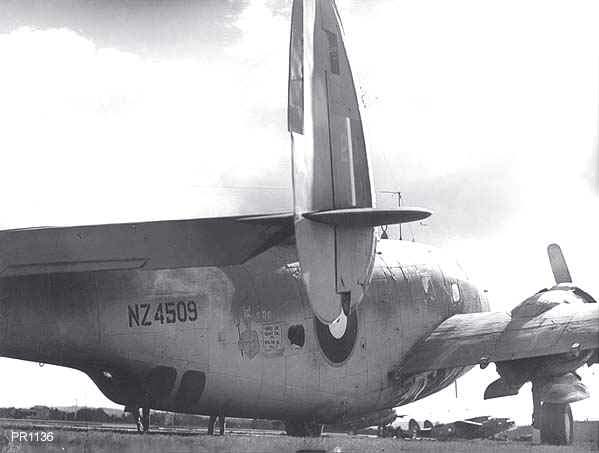 An example of the fuselage art from the Disney Studios applied to the Venturas. The aircraft is of course the famous NZ4509 in the two colour scheme as received.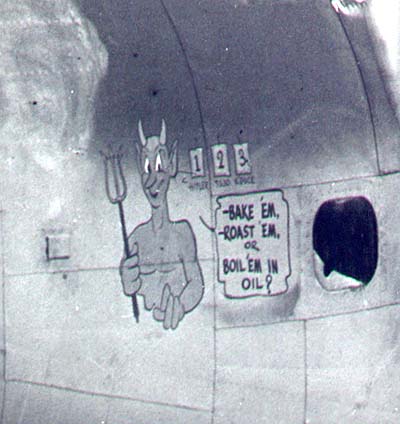 A close-up of NZ4509's artwork.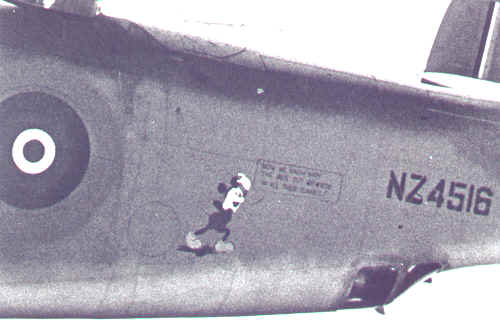 A close up view of the 'Mickey Mouse' artwork on NZ 4516. Caption reads:

Now we know why the Axis put (Riceroe?) in all their planes !

Note how the Ortho film used has darkened the yellow ring of the roundel, and the darker (fresher) paint used to overpaint the US insignia.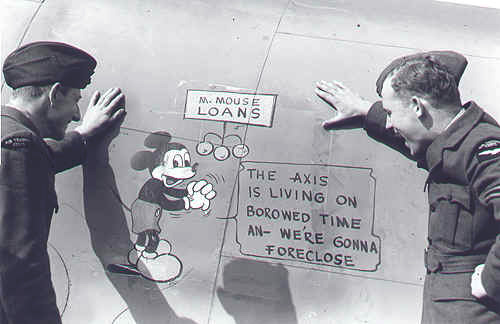 Two Air Training Corps (ATC) cadets viewing the artwork on a Ventura fuselage, 1943 . Aircraft's serial is unknown.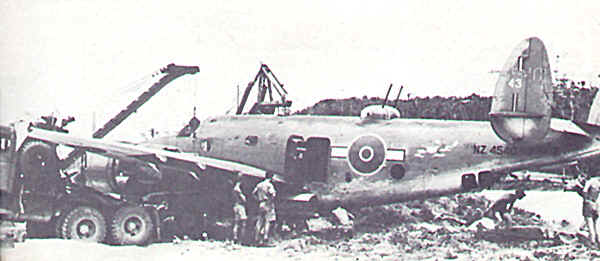 Proof that some cartoons made it up to the operational areas. NZ4540 after a belly landing, Munda, New Georgia, 1944. Note how tail serial has almost worn off, yet the number 43 is still clear.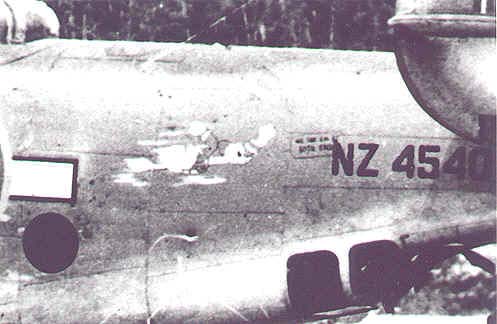 Enlargement of 'Donald Duck' on NZ4540. The caption reads: WE FIRE FROM BOTH ENDS !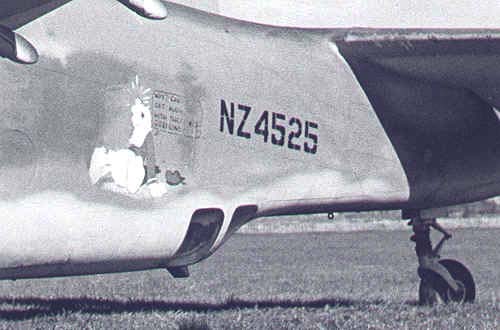 Another 'Donald Duck' cartoon on NZ 4525. Caption reads: WHY CAN'T I GET ALONG WITH THE

* *

GREMLINS !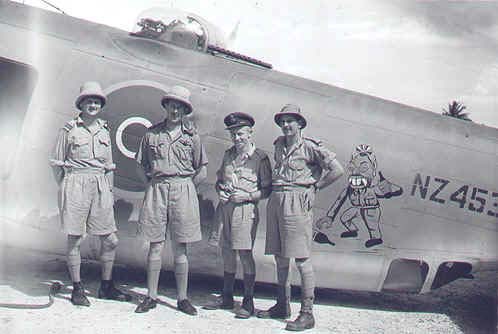 This artwork is a prime example of why the RNZAF removed many of the cartoons from the Venturas! Some of No.2 (BR) Squadron's 'Top Brass' at Espiritu Santo, November 1943. L > R are F/Lt Paul Phillips (Navigation Officer), W/C Arthur Greenaway (C.O.), F/Lt. Alex Rowe (Gunnery Leader), and F/Lt. Harry Dean (Signals leader). Note the RAF type tropical uniform, complete with solar topee! The rest of the aircraft's serial is unknown, but is probably NZ4538. (RNZAF)
Another interesting fact about these four men is that they were involved in the last recorded claim for damage against enemy fighters by the RNZAF. According to my Grandfather's log book, that action took place on 28-2-1944 in NZ4518, piloted by S/L Greenaway. His logbook entry reads "war ops bombing strike New Britain, encountered six zeros, damaged one". (Via Dion Rowe)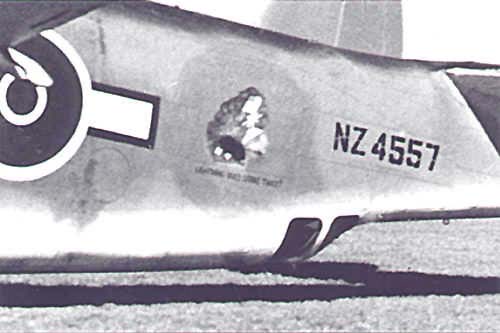 'Gremlin' in 'hole' in fuselage - Caption reads: ANYTHING GOES STRIKE TWO !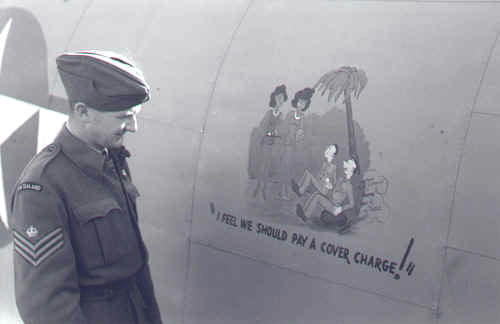 Fuselage artwork on a newly arrived Ventura, NZ Pacific Ferry Flight, Winter 1944. Note that the aircraft still retains the 'Stars and Bars'.
Note: Some of these enlargements done for me by Matthew O'Sullivan at the RNZAF Museum are of marginal quality, but I feel they well illustrate the variety of fuselage cartoons carried by the Venturas. Once again, a big thanks to Matthew for his efforts.
Fuselage Codes Letters and Numbers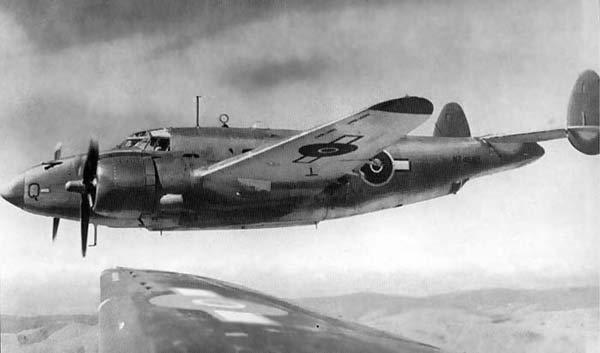 NZ4563 flying over the North Island of New Zealand during training - Note letter Q on nose. N.s Sea Blue leading edge on aircraft wing in foreground. Also note roundel with bar borders the same colour as the roundel, which is the lighter shade of blue used on many NZ based aircraft.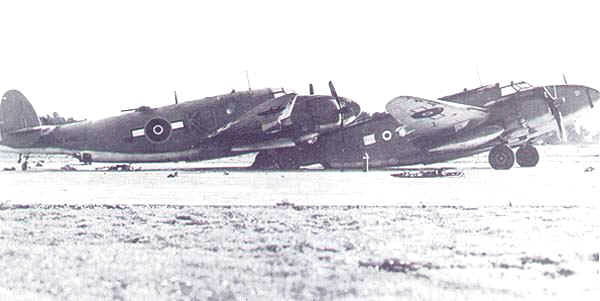 A rare photo of a pair of 14 (SU) Venturas mating! - Short lived code letters on rear aircraft (K J) were probably Red. Needless to say, NZ4581 was written off. Note Insignia Blue borders to fuselage roundels on NZ4552.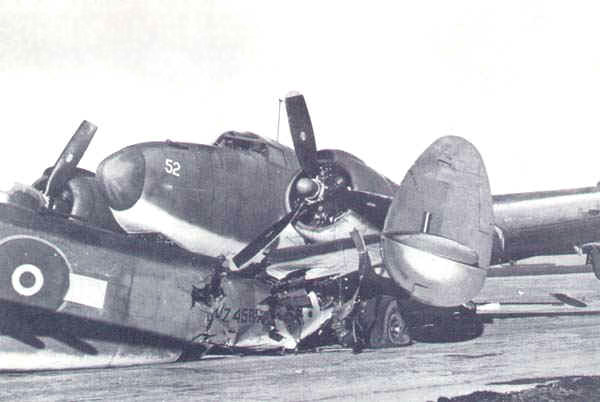 A further photo of the above accident - note last two of serial on the nose of NZ4552. Bars on fuselage roundel of NZ4581 are wide offset type with no Insignia Blue outline
Venturas of No.1 Operational Training Unit practice single engine flying, June 21st, 1945. All appear to have been repainted (NZ) Blue Sea Grey/ (NZ) Sky Grey. ZX Codes were Black with a White border