KITS AND ACCESSORIES TO MODEL RNZAF AIRCRAFT

Notes by Dave Stewart, Peter Dingwall (1:72) and Peter Mossong (1:48 - 1:32)

1:72:

THE MODELS THAT ARE/WERE AVAILABLE (those with a an * are reviewed here)

FROG * NITTO (1/77)

AIRFIX* CRUVER

MINICRAFT* (ACADEMY) ARISTOCRAFT

HASEGAWA* FUJIMI (1/70)

LINDBERG*

HASEGAWA

Kit No.AP33: This kit has been released in a variety of marking including a F.A.A. Tarpon I guise.

The span is 9", equaling 54' against 54' 2" of the full size. Height is difficult to measure accurately without building the kit, but looks to be reasonably close.

Measuring the various fuselage components gives an overall length of 6 ¾" which scales out at 41' against the aircraft dimension of 40' 9".

The date on the box shows a release date of 1995, this kit being typical of the era with minimal internal detail and shallow wheel wells. Both the early and late ventral gun position units are included, but only the early small tailwheel is supplied.

Surface detail is usual Hasegawa standard. The lighter detail will disappear under a couple of coats of paint.

Decals are the standard minimum type of the period. It would appear that the manufacturers believe the 'after market' world would produce, as they did, the units and decals to detail these kits. This release has decals for one aircraft from VC-17 or VC-19.

Built straight from the box these kits will produce a good model of the type as the basic workhorse of the USN during 1942/44

ACADEMY/MINICRAFT. Kit No.1651: This kit, I believe, owes something to the old FROG kitset (not that this is a bad thing). The parts layout and breakdown are similar and the dimensions are the same). Although the surface detail is engraved and nicely restrained. The release date was 1987, and was well received by this reviewer at the time.

The wingspan at 8 7/8" is very slightly under scale, the length is 6 ¾ " is as close to scale as makes no difference to me. There is only one set of markings in this kit for an USN squadron, part of Air Group 17 on the USS Bunker Hill in late 1944. This is perhaps the most available of the 'economic' TBF/TBM kits.

AIRFIX: Originally released in 1965 and reappears from time to time, it has just been re-released as this is being written.

The span is just about ½" too long at 9 3/8" the fuselage is about 3/8" to long at 6 7/8". However built up it still looks like a TBF. There are 2 decal options in the kit I have, both USN and described as aircraft from the USS Yorktown (CV-10) and the USS Bennington (CV-20). As a last comment there are of course the AIRFIX rivets to remove!

FROG. Kit No.F224:

This kit was first released in 1973 (and last released as Frog went broke in 1974).

It measures out in span, at 8 9/10" and a length of 6 5/8", as near as d… it to 1/72.

Has marking for two Royal Naval options, both 857 Squadron F.A.A. One ashore at Macrihanish in August 1944, and the other onboard HMS Indomitable with the British Pacific Fleet in 1945. Frog was one of the first manufacturers to offer alternate markings in their kitsets.

While the kit is accurate and looks like an Avenger when built, it would be a shame to build one due to the collectable nature of FROG kits. Go for the Hasegawa or Minicraft options (depending on budget).

LINDBERG:

I have only just acquired this kit. The span measures out at 8 9/10" and length at 6 ¾". Just right for 1/72 scale. The rest of the kit tends to make me want to build any of the other kits though!

(DS) .

1:48:

Monogram: Kit No.PA31, 6829 and many other re-issues. The 'Granddad' of 1;48 TBF kits. Considering it's age (One of my kits has copyright 1958!) was very accurate but suffered from 'operating' features such as folding wings etc.

Box tops from the two early Monogram releases. PA-31 on the left, and 6829 on the right.

Moulded in dark blue plastic with raised panel lines. Builds as TBF-1. Poor engine, horizontal tailplanes, undercarriage, wheel and cockpit detail, but still above average for it's time.

Nichimo: Kit No.S-4809. Copy of above but my example had rub down dry transfers - well before their time.

Lindberg: Kit No.? TBM3. Various re-releases. Moulded in mid blue plastic. Included an electric motor kit to revolve prop. Fuselage is oversize to accommodate the electric motor and batteries. Best features are a nice R-2600 that will fit in the Monogram kit, well-moulded undercarriage legs and wheels, and accurate horizontal tailplanes.

Accurate Miniatures: TBF-1C Kit No.3403 'Battle of the Atlantic', and No.3405 'Truk Lagoon Raid'. The best yet, and supersedes all others. Moulded in mid grey plastic with recessed panel lines. Full and accurate interior detailing.

Box top art from two of the Accurate Miniatures kits.

<![if !supportEmptyParas]> Can be built straight from the box but several accessory sets now available can 'Guild the Lily'.

Had been re-issued by Accurate Miniatures Mk.II as Kit No.480120 with markings for NZ5218 'Plonky' but not currently available. Not seen by this reviewer.

ITALERI: Kit No.2644. The plastic is the same as the Accurate Miniatures kit, with different decals. There is an RNZAF option for NZ2509 'Grumpy' but the blue of the roundels is incorrect!

1:32

Scratchbuilders: TBF/TBM-1C Kit No.96001 Multimedia kit in resin with white metal details.

Trumpeter : TBF-1C Kit No.2233 See Jay Laverty's build at /rnzafmod_3.html .

Accessories/decals etc:

1:48:

Kendall Model Co. TBF-1 backdate set 48-4025: Includes r/h cowling section with .30cal, cockpit floor, second seat and details to backdate the Accurate Miniatures TBF-1C to a TBF-1, or by using the floor and second seat to produce a Fleet Air Arm Tarpon or Avenger.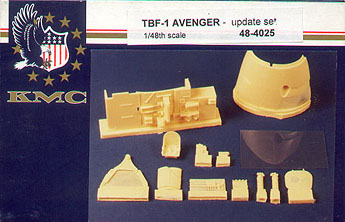 (KMC are not now producing resin, but I understand their updates/detail sets are now being produced under the TRUE DETAILS brand).
Dangerboy Hobbies: Resin wingfold set for Accurate Miniatures kit. (Now out of production by Dangerboy, but I understand they are now available from another source)
Photoetch:
Eduard: 1:72
72-199: Details for Hasegawa kit.
72-245: Bomb bay details for Hasegawa kit.
Eduard: 1:48
48-144: Bomb bay details for Monogram kit.
48-145: External details for Monogram kit.
48-146: Internal details for Monogram kit.
48-187: Internal details for Accurate Miniatures kit.
48-189: Flap details for Accurate Miniatures kit.
Decals:
1:72
RooDecals: RNZAF sheet. Included generic TBF roundels and fin flashes. Out of production, but some re-prints appear from time to time.
Aeromaster SP72-10: Includes markings for two RNZAF TBF-1C's, NZ2518 'Plonky' and NZ2525 'Maori'.
1:48
Aeromaster SP48-10: Includes markings for two RNZAF TBF-1C's, NZ2518 'Plonky' and NZ2525 'Maori'. Now out of production.
RooDecals: RNZAF sheet. Included generic TBF roundels and fin flashes. Out of production, but some re-prints appear from time to time..