In early October those crews remaining at Fiji were sent to Segond Channel on Santo, using their own aircraft to transport the staff and ground crews except for one load taken by a C-47.
The first operational patrols were carried out three days later, and for the next 10 weeks anti-submarine and ship searches were carried out to over 700 miles west of Santo with negative results during this time. Very boring work for those involved, but necessary.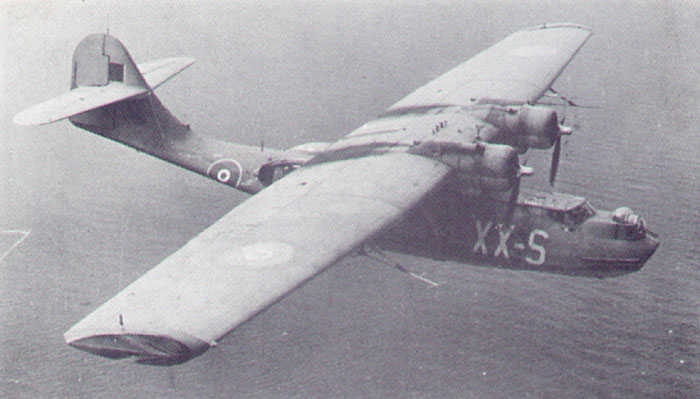 NZ4016 flying from Segond Channel, October 1943. The heat exchange manifolds are still in place.
The Tonga flight rejoined the squadron in November, and the patrols continued until the whole unit moved in late December to Halavo Bay, Florida Island, Guadalcanal. The ground staff and equipment were shipped by an American transport ship, arriving on Boxing Day, 1943.
Here they operated alongside a U.S.Navy 'Black Cat' squadron of PBY-5A amphibians on shipping and anti-sub searches, and always had a crew on readiness for search and rescue 'Dumbo' missions.
The first of these was carried out on 26th January 1944, when 10 men from a ditched B-24 Liberator were rescued by F/O Mackley and crew in NZ4013 (XX-O).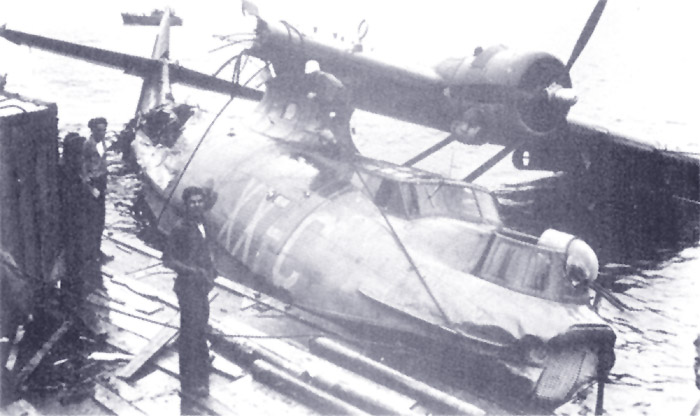 The perils of a night landing! NZ4003 after water looping, and crashing into a liberty ship, Segond Channel October 31, 1943.
After several other rescue missions carried out over the next few months, the next memorable rescue was carried out by F/Lt. McHardy and crew in NZ4015 (XX-R) when the two man crew of an SBD was rescued during atrocious weather on June 1944. The local American rescue launch refused to put to sea, but the Kiwi's went anyway, launching with a reduced crew and fuel load.
After a difficult landing which sprang many of the rivets in the hull, and a cross wind takeoff, the rescued men were returned to Halavo Bay safely.
F/Lt. McHardy was immediately awarded the DFC for his work. The American Navy Commander Air, South Pacific, Admiral Gunther, was apparently not amused by the rescue boats' refusal to sail, but was full of praise for the RNZAF's efforts.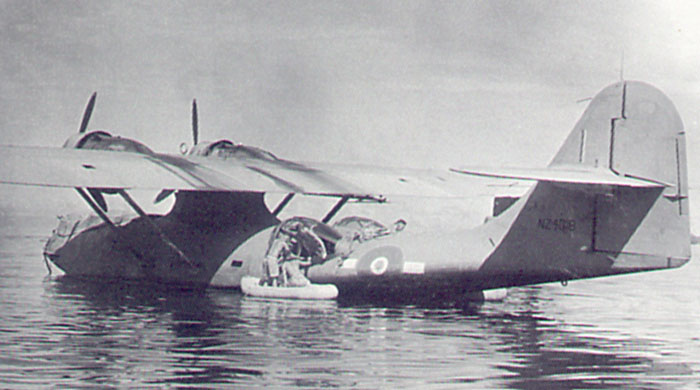 NZ4018 (XX-U) at Segond Channel, New Hebrides, late 1943. White bars without borders have been added to the fuselage roundels.