In early 1945, a detached flight of two aircraft was sent to the Treasury Islands for two week tours. They were tasked to cover fighter strikes on Rabaul, and 'Dumbo' patrols to the south of New Ireland. The crews then returning to Havalo Bay and normal operations.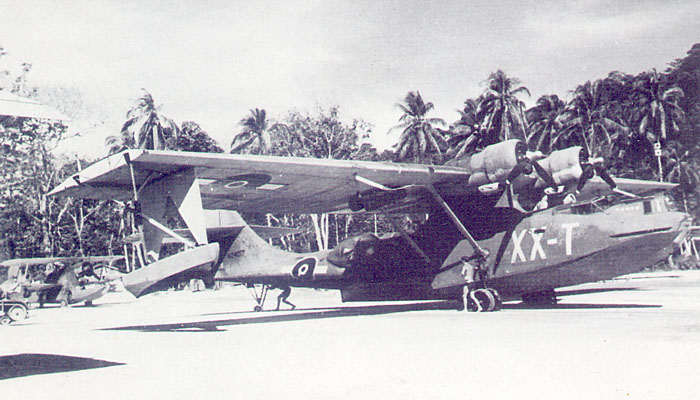 NZ4017 at Halavo Bay, Florida Island, December 12th 1944. Note the Insignia Blue borders to the under wing roundels.
6 (FB) Squadron was disbanded in October 1945, soon after the war had ended. It was reactivated as 6 (Maritime) Squadron of the Territorial Air Force (TAF) in 1952 and equipped with some of the PB2B-1's then in storage at Hobsonville.
By the time the TAF scheme was abandoned in August 1957, and 6 Squadron was again disbanded, they were flying Short Sunderland MR.5's. The last of the Catalinas having been pensioned off by the end of 1953, and all sold for scrap by the end of 1956.


5 Flying Boat Squadron
In July 1944, 5 (Flying Boat) Squadron was reactivated under the command of Wing Commander J.W.H.Bray, and equipped with Catalinas. These were mostly Boeing Canada built PB2B-1's.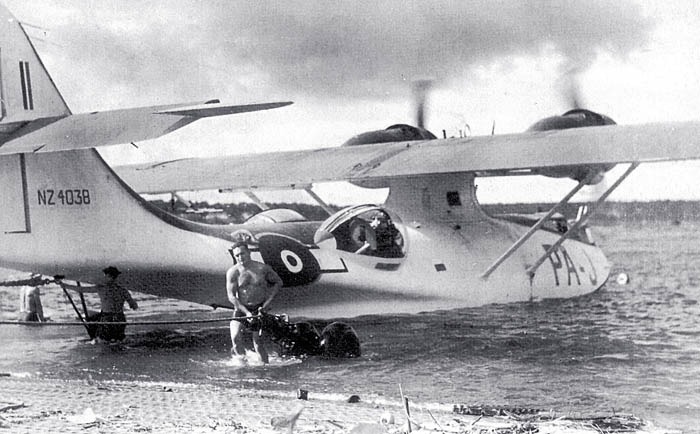 PB2B-1 NZ4038 being launched at Segond Channel. The detachable beaching gear is being dragged ashore.
After operational training at Lauthala Bay, the squadron moved forward to Segond Channel where it remained until the end of the war carrying out rescue missions, shipping escorts and anti-submarine patrols.
A detached flight of four aircraft and crews operated in the same role from Funafuti in the Ellice Islands.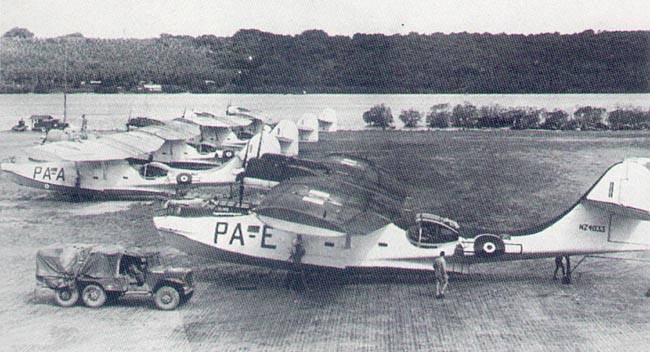 Boeing built PB2B-1's of 5 (FB) Squadron at Segond Channel, 1944.
At the wars end, 5 (FB) Squadron withdrew to Lauthala Bay, where the PB2B-1's were re-equipped with the latest radar units mounted in a teardrop shaped pod mounted just behind the cockpit.
The squadron codes were changed post war to KN-x and operated until their replacement by the MR.5 Sunderlands in late 1953.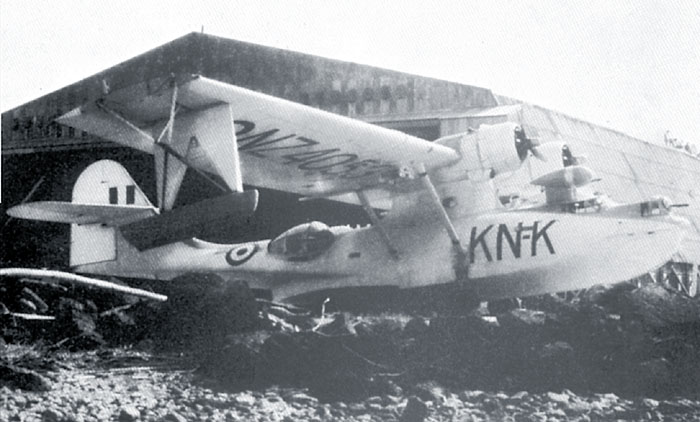 PB2B-1 NZ4053 of 5 Maritime Squadron, Lauthala Bay, Fiji, 1950. Note the position of the under wing serials, 'D' type roundels, the wide fin flash, and the radar pod behind the cockpit.
Of the 56 Catalinas used by the RNZAF, not one remains in New Zealand. The example in the RNZAF Museum had no RNZAF service history, and was obtained from Papua New Guinea.
Seven PBY-5's were lost in wartime accidents, and eight PB2B's were written off between 1945 and 1950.