Our father John Armitage was born in Winnipeg, Manitoba, Canada and was a mechanic specialising in fixing and maintaining newspaper printing machinery before a lengthy strike in his home town brought him to Auckland, NZ in 1937 on the 13,500 ton ship 'Niagara' (later sunk by mines laid in the Hauraki Gulf by the German Raider 'Orion' in 1940).
His ancestors were Quakers from Pennsylvania who had moved north by wagon train to Canada in 1804.
He worked as a linotype mechanic at the Auckland Star newspaper before joining the RNZAF.

He didn't say much to his four kids about his service during the war, and certainly wasn't unusual in that respect. However, he and many other RNZAF ground crew who served in the Pacific theatre for lengthy tours in humid, hot, and often unhealthy conditions, deserve some recognition and memorial for the vital role they played.
Here is what must be a brief and incomplete sketch of one man's service. By putting this information on this website, we hope it encourages other ground crew or their family to do the same and, who knows, something unexpectedly good may well come of it.

His kids


War Declared.

During the last week in August, 1939, international tension rose rapidly and it was clear war in Europe was not far off. On the 27th, all personnel in the armed forces in New Zealand were recalled from leave and naval control of shipping was instituted. The next day the first mobilization order was issued. September 1st saw the Governor-General proclaiming an emergency, and calling up the RNZAF Reserve and Territorial soldiers who were made liable for continuous service.
On 3rd September, 1939 at 9-30pm New Zealand was at war with Germany.

The Territorials.

Sometime prior to joining the RNZAF Reserve, John had done three months training with the Territorials (thus becoming legally liable for war service). As a Trainee his number and rank was 1/9/707 and his Unit was "1st COY.N.Z.A.S.C." which is believed to mean "1st company, New Zealand Auxiliary Service Corps

Enlisting In The RNZAF Reserve.

On 30th September, 1941 he applied to enlist in the Royal New Zealand Air Force as a Flight Rigger. He was provisionally put down for a course on 6th February, 1942.
Within one month he was required to complete a form of attestation in front of a Justice of the Peace, which he did on 14th October, 1941, almost two months before Japan entered the war, thereby becoming a member of the Royal New Zealand Air Force Reserve, and thus liable for war service. He must also have passed a medical.

To Recruit Training School, RNZAF Station Harewood, Christchurch.

He was given 'Air Pamphlet 6' outlining the particulars of enlistment, and conditions of service for non-flying personnel, and recommended subjects to study prior to the course, finally joining the RNZAF as a Flight Rigger on 6th February, 1942, at the age of 30. He was immediately sent to the Recruit Training school (RTS) at Harewood, Christchurch, to start a 6 week training program. He was classed as an Aircraftsman 2, Group 1, (Both have pay scales applicable to them.)
His Identity Card No. 7397 was issued to him on 6th March. The training included a musketry course on 12th March. The course finished on 20th March, 1942.

To Flight Riggers Course RNZAF Station Rongotai, Wellington.

He was ordered to the RNZAF Station at Rongotai in Wellington on 21st March, 1942 and on the 23rd started a Flight Riggers Course.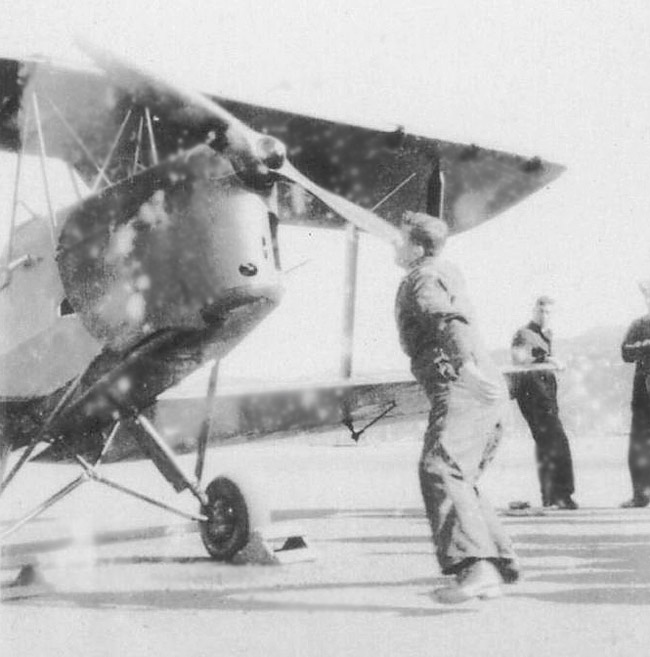 Swinging the prop to start a Tiger Moth at Rongotai. , DeHavilland had an assembly plant at Rongotai, where the Tiger Moths were assembled and flight tested. The main factory was used as the terminal building of Wellington's Airport for many years post war.
To RNZAF Station Seagrove, near Auckland and joins No. 15 Fighter Squadron.

Seagrove was situated near the South Head of the Manukau Harbour, on Auckland's west coast. On his arrival on 7th September, 1942, he was reclassified as (Aircraftsman) AC 1 Flight Rigger, Group 1.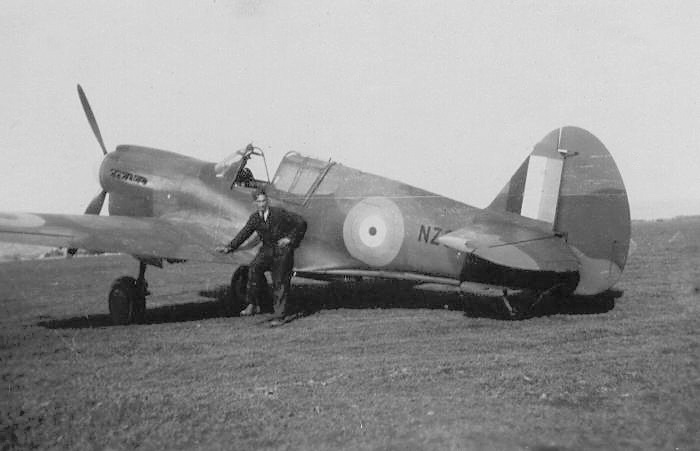 A brand new P-40E before application of the squadron code letters.
He joined No.15 Fighter Squadron based at Seagrove, which was equipped with American-made P-40E 'Kittyhawk' aircraft. Since the Squadron was shortly to be posted overseas, to assist military operations under the Americans in the Solomon Islands, he was given leave from 12th to 19th October.
On his return from leave John was stationed with the squadron at Whenuapai.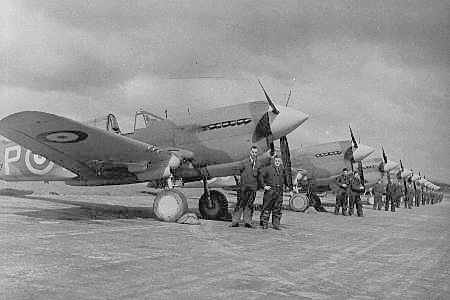 P-40E's of 15 Squadron at either Seagrove or Whenuapai.
15 Squadron was to be included under the American Commander, Aircraft, South Pacific Area (Comairsopac) as part of the No. 1 Islands Group, RNZAF. Early in October, the Americans had asked NZ to send air and ground crews to take over and operate the aircraft (P-40's) of No. 68 Pursuit Squadron USAAF. No. 15 Squadron was so chosen, and rapidly made ready.

To Tonga by sea with 15 Squadron.

No. 15 Squadron assembled under Squadron Leader Crichton, and sailed from Wellington on the United States Naval Transport 'President Jackson' on 23rd October, 1942, arriving at Tonga 4 days later. The ship was a large converted liner. Once ashore the squadron took over the 23 aircraft and equipment of 68 Squadron USAAF stationed at Fuamotu airfield. The aircraft were in a poor condition with neglected engines and airframes, and corroded gun barrels. That meant a lot of work to make them airworthy.
Bombs and ammunition, fuel, airframe spares, medical services and rations, spark plugs (and very few spare engines) were available. 15 Squadron took with them mechanical transport, camp and mess equipment, spare clothing, tool kits for the ground staff, flying equipment for the pilots and other general personal and camp gear.
Sqn. Ldr. Crichton took over the command of the base, which apart from 15 Squadron, comprised detachments of US Army Air Corps Companies for stores, signaling, telephone communication and interceptor control at or from the base. All told there were 255 personnel, of which 116 lived on base.
An interesting side-note occurred on 26th October, when the 'President Coolidge' loaded with troops and much-needed war material, struck a minefield coming into the harbour at Espiritu Santo. It was a liner of the same class and displacement, 22,000 tons, as the 'President Jackson'.

Some background on the strategic importance of Guadalcanal.

When intelligence work supplied the information that the Japanese were building an airstrip in the Solomons, a rapid high-level response by the Americans led to the accelerated formation of a large Task Force to throw them out, and thus nullify the threat to American bases at the New Hebrides and New Caledonia, which, had they fallen, would have left New Zealand and Australia wide open.

From Wellington on 22nd July, 1942, the US 1st Marine Division sailed 11,000 strong to the New Hebrides for rehearsals before landing on 7th August in the Japanese-occupied Solomon Islands at Tulagi and Santa Cruz. Their main target was the unfinished Japanese airfield on Guadalcanal, (now the capital, Honiara).
Upon these landings, the 2,500 Japanese soldiers and other workers melted into the jungle and awaited reinforcements. For the next five and a half months the right to possess the 2,500 square miles of humid disease-ridden jungle that made up the island was bitterly contested. The fighting on the island was savage, as was the fighting around the island, which resolved into a series of five major naval engagements. These became known as -

1. The Battle of Savo Island, 7-9th August, 1942.

2. The Battle of the Eastern Solomon's, 23-25th August, 1942.

3. The Battle of Cape Esperance, 11-12th October, 1942.

4. The Battle of Santa Cruz, 25th October, 1942.

5. The Battle of Guadalcanal, 12-15th November, 1942.

A further engagement was the Battle of Tassafaronga

Emperor Hirohito, the real Japanese Supreme Commander, required Guadalcanal as a bargaining chip for peace feelers that he thought may bear fruit after the massive losses at, and failure to take, Midway Island, which confirmed to him that the war was lost. The Americans had an absolute requirement of the island to progress northward from a strategic base that could attack by air the large Japanese base at Rabaul in New Britain, amongst other considerations. After these battles, the Japanese went on the defensive. It was the turning point in the war against them. NZ and Australian servicemen from all the services took part.

(The airfield was named 'Henderson Field' after an American pilot killed at the battle for Midway Island.)

The Kingdom Of Tonga.

After landing on 27th October, 1942, the squadron spent about three and a half months in Tonga, before moving to Nandi in Fiji, but John did not join them there until 20th March, 1943.

While in Tonga, the squadron took over responsibility for air defense. There was extensive operational training, while it's defense role was that of general reconnaissance and fighter protection combined. It carried out dawn and dusk patrols over surrounding seas, and maintained a constant stand-by from dawn to dusk to enable a scramble at short notice. Enemy submarines had been active in the area, and patrols were designed to keep them underwater. Because no bomb racks were available for the P-40's, a submarine could only be attacked by machineguns. Except for a few false alarms, no enemy activity was met.
From December, 1942, the squadron had a NZ radar unit attached to it. John refers to the airfield as 'Bleacher Field', so either the name was changed or there was more than one airfield at the base.

On 20th February and 1st March, 1943, the P-40's of 15 Squadron. left Tonga in two flights under Sqn. Ldr. M.J.Herries (22 years old) and flew to Espiritu Santo to assist local defense. On 20th March, 1943 John left Tonga for Nandi in Fiji, where he was re-united with 15 Squadron which had arrived from Santo on 20th March.

Strategic Update.

The last major attempt by the Japanese to land troops with naval support was in the second week of November, 1942, which was a series of engagements known as the Battle of Guadalcanal, which finally stopped their advance into the South Pacific. Minor night reinforcements by the 'Tokyo Express' coming down the slot occurred to act as a delaying tactic, while they attempted a build-up in the Northern Solomon's, as their nearest airfield was Rabaul 675 miles away. The Japanese built airfields at Kahili in Southern Bougainville, Vila on Kolombangara, and Munda on New Georgia.
In January, 1943, Allied army troops moved out from their perimeter round Lunga to Cape Esperance, where the main Japanese concentrations were. By bluff, the Japanese fooled the Americans into reacting to a perceived imminent threat of a major action, to cover an evacuation of all their soldiers except stragglers from Guadalcanal. This was completed by the 8th February, 1943.

To Nandi In Fiji.

Nandi was a major Allied base, and 15 Squadron were there for operational training in conjunction with United States Carrier Air Group 11. It was intended that the squadron should be operated in the Forward area (next back from the Combat area) with the carrier group, but this didn't happen and the Carrier Group moved to Guadalcanal in early April without them.

To Espiritu Santo In The New Hebrides.

After completing training in Fiji, the squadron moved to Santo. The tropical climate and malarial mosquitoes combined to make this volcanic island a very unhealthy place to be. The New Hebrides group was administered both by Britain and France, the French presence being dominant.

At Santo, the squadron exchanged its aircraft for a more modern type of P-40 (K's and M's) that had been flown from NZ by 14 Sqn. The ground staff were housed on Santo near the north end of Bomber 1 strip at Pallikulo. The base was continually improved by works personnel, to try and reduce the incidence of fever.

Guadalcanal, Solomon Islands.

The aircraft eventually reached Guadalcanal on 26th April, 1943. John, however, arrived at Guadalcanal on 15th April. He may have gone with the American Carrier Group, but this is only a guess.

A tour in the Combat area for the pilots was 6-7 weeks before their efficiency declined, but for the ground crew much longer. The scheme whereby ground crew were attached to a squadron was now changed and ground crew became members of Fighter Maintenance Units (F.M.U's) and John was in No.2 F.M.U.
A panoramic view of 15 Squadrons' area at Fighter 2 strip on Guadalcanal. P-40's share the area with what appear to be RNZAF Hudson's.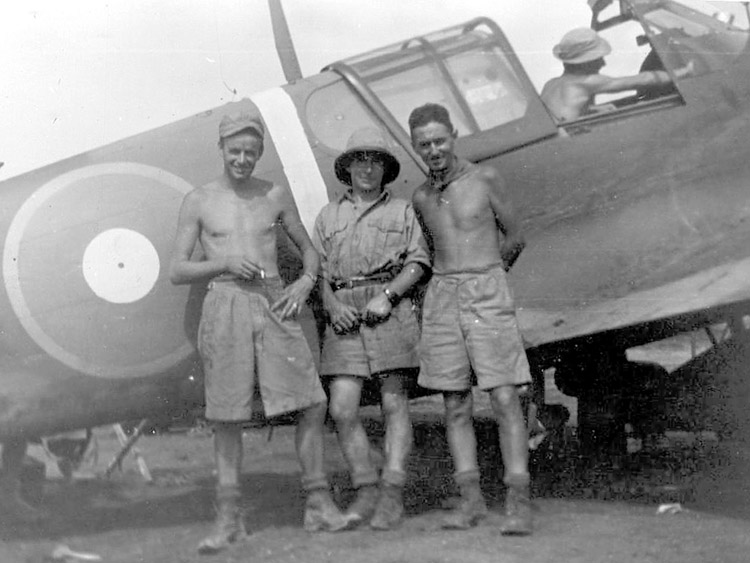 Would you buy a used car from these men? Standard tropical 'kit' for the workers on Guadalcanal. Note the roundel with the 1"centre, and how roughly the ID stripes have been applied.

The squadron was situated at the Fighter 2 Strip, to the west of Henderson Field, and lived in 4-man tents at 'Camp Kiwi'.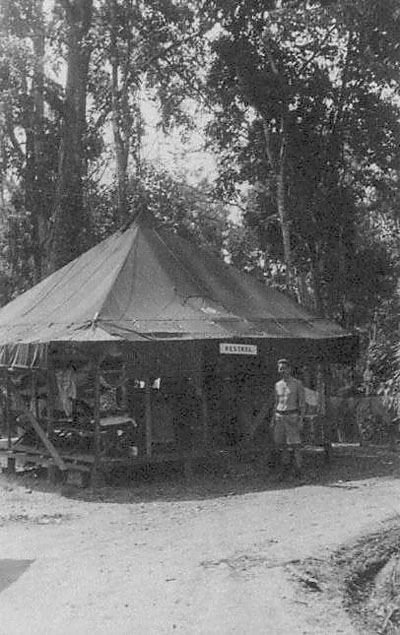 'Kestrel' hut on Guadalcanal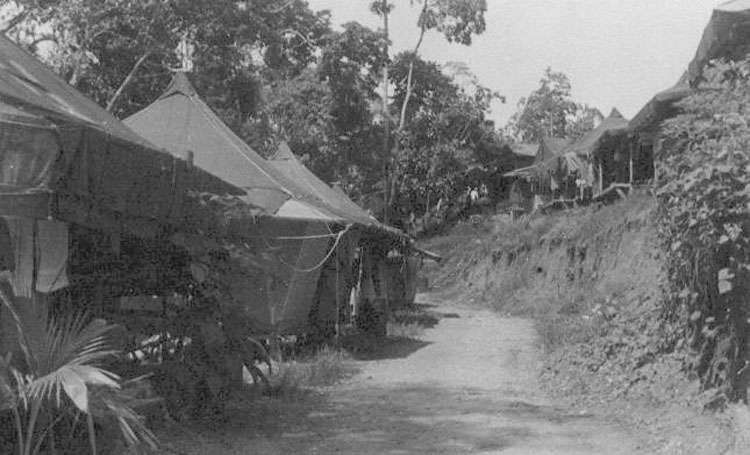 'Camp Kiwi' on Guadalcanal
Back To Espiritu Santo.

Home To New Zealand On Leave

A Month At Whenuapai Airbase

To Nelson For Training.
Course ran from 27th Sept, 1943 to 22nd October, 1943 as Fitter II(A) (ref: RNZAF postings record card in service record)
Golfing with others on the course, including Keith Bishop.

To Whenuapai

To 5 Servicing Unit, Ardmore Base

On Leave

To Auckland

Back To Guadalcanal

Re-mustered as a Fitter (FITT IIA) on 1st May, 1944
To Espiritu Santo

To Auckland And On Leave
Arrived back in NZ on 25th May, 1945 after a tour of one year and 34 days overseas..

To 4 Service Depot 4 (SD) At Te Awamutu Airbase

To Auckland And Leave

Last Day, Discharged And In Reserve

Father's last day of service was on 18th December, 1945, being discharged the next day and put in the RNZAF Reserve 'C'.

His war service overseas was 1 year 309 days, in New Zealand 2 years and 7 days and in total 3 years and 316 days.

(His Certificate of Discharge, and I presume this is from the 'Reserve' classification, was not granted until 26th January, 1951).
On his discharge from the Air Force, John resumed his peacetime job with the Auckland Star newspaper

Retirement

Retired from 'Auckland Star' 15-4-1976

John Armitage died on the 22nd November, 1988 aged 77.

His ashes were scattered at sea from his son Evan's boat with all the family aboard.



Don Armitage, 2003