The P- 40 enters combat.
The first RNZAF Kittyhawks to see combat were those of 15 Squadron, now equipped with P- 40K's and M's, which joined the Battles over Guadalcanal during the heaviest fighting there during April 1943.
To reach the operational area, the aircraft were flown from New Zealand via Norfolk Island, New Caledonia, Espiritu Santo, then on to Henderson Field on Guadalcanal.
To help with navigation on these long overwater flights, they were normally escorted by a Lockheed Hudson aircraft with it's crew providing guidance. The P- 40's had to fly with minimum throttle settings to remain with the Hudsons.
Several aircraft and pilots were lost on these ferry flights due to fuel exhaustion when trying to fly around bad weather.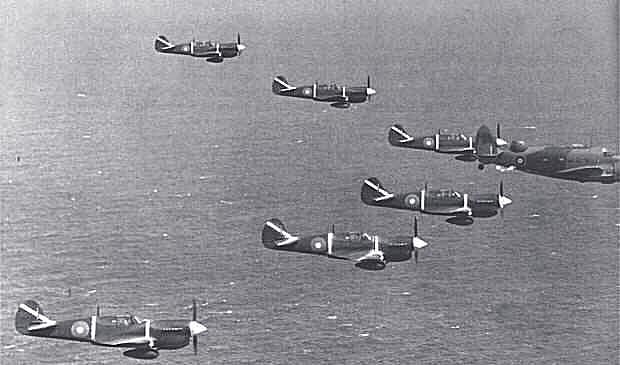 P- 40's on their way up to the operational area escorted by a Hudson. Note: White recognition bands have now been added to fuselage, wings and tailplane areas. Colours are Olive Drab over Neutral Grey. The Hudson probably has had it's Dark Earth repainted in (NZ) Blue Sea Grey, a unique paint used by the RNZAF (close to PRU Blue when fresh, but tended to fade badly).
The first RNZAF fighter victory in the South Pacific was a floatplane downed on May 6th by two 15 Squadron aircraft escorting a patrolling RNZAF Hudson.
15 Squadrons' first large scale action took place on June 7th, just south of the Russell Islands. In atrocious weather, the first 'Zero' fell to Sgt. R.A.Martin, and three others fell to the guns of other members in the flight of 12 aircraft.
After a three month operational tour, the remaining aircraft were taken over by 14 Squadron for their tour of duty, and 15 Squadron withdrew from Guadalcanal on June 22nd.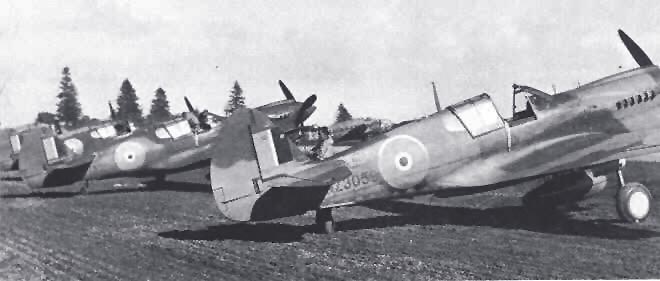 P- 40's of 14 Squadron at Norfolk Island during their ferry flight up to Guadalcanal.
NZ3059, a P- 40K-15, survived the war. Colours are probably Curtiss Dupont Dark Green / Dark Earth / Pale Blue, with a wavy demarcation between the upper and lower colours. Serials were Black. Note: The roundels have had the Blue area increased, and the Red centre reduced. These were the first of the special RNZAF type roundels used in the Pacific.
14 Squadron had no time to settle in as they went into action on the day after their arrival on June 11th.
On the 12th, they, along with American aircraft were scrambled to intercept an attacking force of 120 Japanese fighters and dive bombers. 14 Squadron scored six enemy aircraft for the loss of one of theirs.
Over the next four days they destroyed 15 confirmed enemy aircraft for the loss of 2 (one pilot survived a ditching).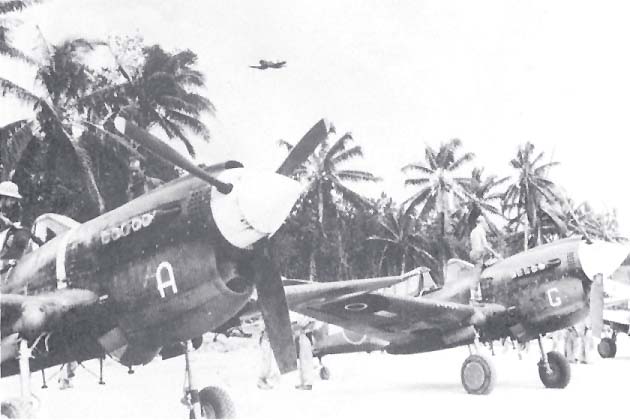 RNZAF P- 40's at Torokina, late in 1943.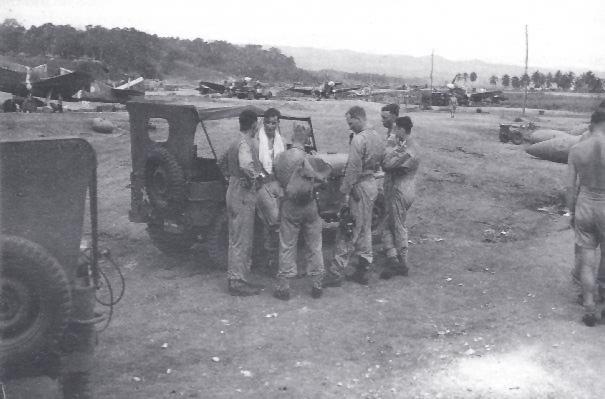 A typical scene at Fighter 1 strip, Kukum Field, Guadalcanal. Pilots are from 14 Squadron
During July they covered the American landings on the New Georgia Islands, and the 'Rendova Patrol' as it became known, adding to their score on July 1st with claims of 7 destroyed and three probables for the loss of 2. One pilot again surviving a ditching to be picked up by a patrol boat.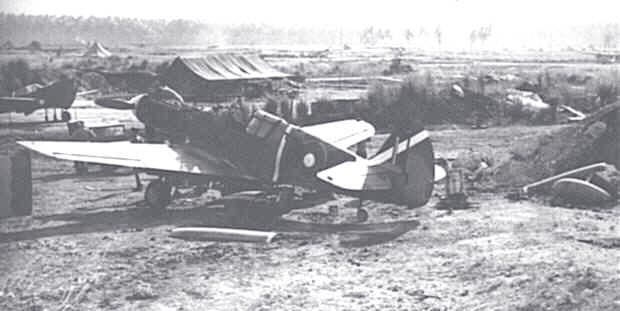 P- 40's of 14 Squadron being serviced at Kukum Field on Guadalcanal. July 1943
After many patrols over the New Georgia group, 14 handed over it's duties to 16 Squadron on July 25th, and pulled back to Santo. After a few days spent on local defence duties, they returned to New Zealand.

14 Squadrons' tally of enemy aircraft for their first tour of duty was 22 confirmed destroyed and 4 probables, for the loss of 4 aircraft and 3 pilots.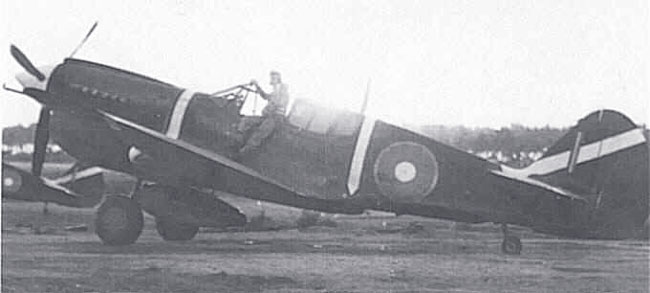 NZ3118, a P- 40M-1 of 14 Squadron at Kukum Field, Guadalcanal, July 1943
This aircraft was one of those previously used by 15 Squadron during their first tour.
Note: Roundel's Red centre has been reduced to a 1" dot. Narrow RNZAF type fin flash.
16 Squadrons' two month tour consisted of similar tasks to those 14 Squadron had carried out, fighter patrols, escorts for American bombers, ground strafing, intercepting enemy air raids, and attacking any enemy shipping in the area. A record 2100hrs were flown at this time, of these, 1260 were flown during August.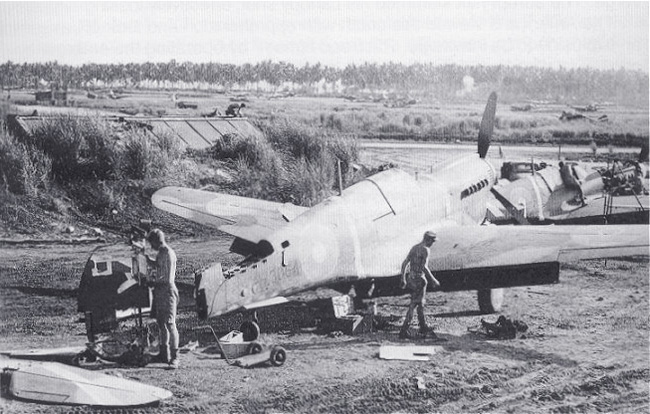 P- 40 K-15 NZ3064 of 16 Squadron having battle damage repaired at Fighter 2, Guadalcanal, August 1943
17 Squadron relieved 18 Squadron on September 12th, and the latter returned to NZ for leave several days later.
17 Squadron were soon joined by 15 Squadron returning for their second tour, both units being heavily involved with the American landings on the central Solomon Islands. Most of their sorties consisted of escorting American bombers to targets on Bougainville.

On October 1st, 15 Squadron provided an escort for the 3rd NZ Divisions' landings on Vella Lavella, and the Kiwis scored heavily against attacking Japanese dive bombers.