2 (BR) Squadron received the next batch, and soon had 18 Venturas flying from their Ohakea base. 9 (BR) Squadron then began conversion training to the Ventura using the RB-34s.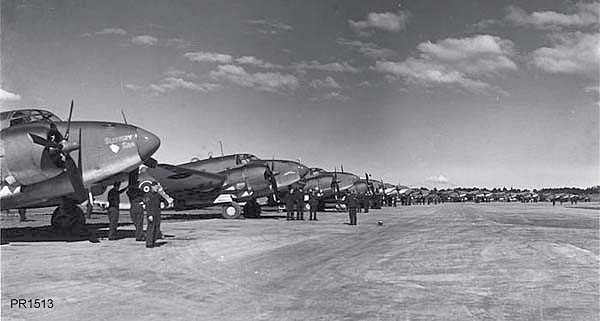 Line up of 1 (BR) Squadron Venturas at Whenuapai before departure for Guadalcanal, October 1943. Note aircraft in 2 tone scheme further down flight line. Also note nose art on first two aircraft.
The first operational squadron to head north to the war zone was No.1, arriving at Henderson Field on Guadalcanal in late October to replace 3 (BR) Squadron and their by now tired Hudsons. They were soon in action, completing 886 missions during a 4-month tour. Their duties included routine patrols, minelaying, bombing and strafing missions, survivor patrols, photo-recce, missions, and even fighter sweeps over New Britain, New Ireland and Bougainville.



The first Ventura lost on operations (December 7th, 1943) was NZ4508. Only one crewman was to survive a crash in the sea off Guadalcanal. Note MUD and PSP taxiway.
In February 1944, 2 (BR) Squadron replaced No.1 who were at the end of their tour, moving to a base at Munda, further north in the Solomon Islands, from where they flew daily patrols, and made strikes on targets on Buka and Bougainville.
On the 28th of February, four Venturas of 2 Squadron met four Japanese Zeros in what was the last shooting contact between opposing aircraft in the Solomans/Bismark Islands area of operations.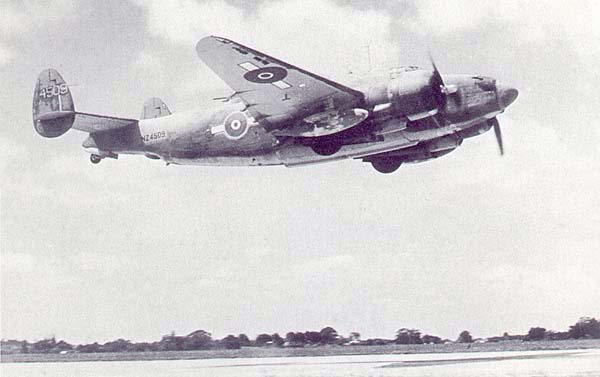 During an air-sea rescue patrol on Christmas Eve 1943, NZ4509 piloted by F.O. Don Ayson, was attacked by nine 'Zeros' over St.George's Channel. Although sustaining damage, it shot down three confirmed plus two probables. The rest were driven off.
Ayson was awarded the DFC along with W.O. W.N.Williams, the navigator. F.Sgt. G.E.Hannah, the upper gunner was awarded the DFM. Note: The aircraft has been repainted in (NZ) Blue Sea Grey - (NZ) Sky Grey or (NZ) Sky. but this has still faded badly.
During this early period, due to a shortage of airframe and engine spares (both in the RNZAF and the US Navy), 10 Servicing Unit was forced to cannibilise written off aircraft to keep the remainder serviceable.
As an aside here, in the Pacific area, after mid 1943, the Squadrons consisted almost entirely of aircrew, the aircraft being allotted to a servicing unit tasked with providing the number of aircraft required by the Squadron Commander.




A panoramic photo of the 1(BR) Squadron dispersal revetments at Henderson Field on Guadalcanal, late 1943. NZ4521 has the full serial painted on the fin and rudder. Normally only the last 2 or 3 were applied.
In late May, 9 (BR) Squadron relieved No.2 and took over their duties, but from late June, began the first RNZAF Ventura strikes on Rabaul.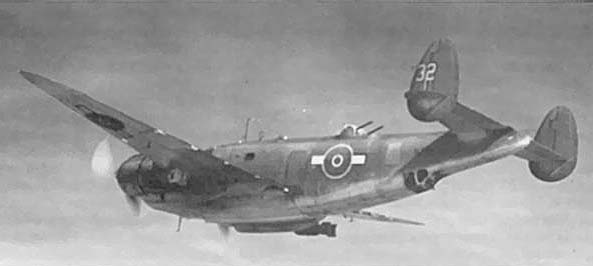 NZ4532 heading out for a strike, with 500lb bombs on the wing pylons.
At this time, it was proposed to relegate the RNZAF to garrison duties, and withdraw them from operations. After high level talks in Washington (and due to the high regard that the local American commanders on the spot held for the RNZAF crews) this was modified, with only two of the units becoming garrison units for Fiji and Guadalcanal, and two further squadrons to serve in the operational area. One at newly liberated Green Island, and the other at Emirau.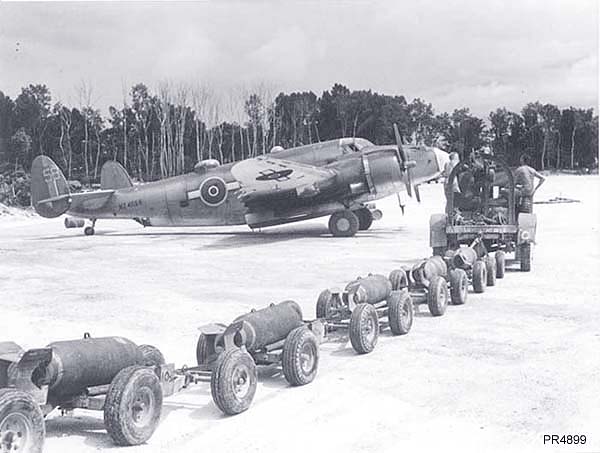 NZ4558 of 10 Servicing Unit waiting to be bombed up at Emirau, 14th February, 1945
To bring this scheme into action, a new squadron, 8 (BR) Squadron was formed at Whenuapai, and 4 (BR) Squadron, based at Fiji would re-equip with Venturas. By December 1944, 8 (BR) Squadron was at Nausori, Fiji; 2 (BR) Squadron was at Henderson Field, Guadalcanal; 1 (BR) Squadron was at Green Island, and 4 (BR) Squadron was at Emirau.
NZ4541 of 10(SU) taking off from Piva, Bougainville, 1944.
4 Squadron at Emirau flew anti-shipping searches towards Truk, the main Japanese base in the area, to stop the flow of supplies to Rabaul and New Ireland. Dawn and dusk patrols were carried out, and strikes made against the coastal areas of New Ireland.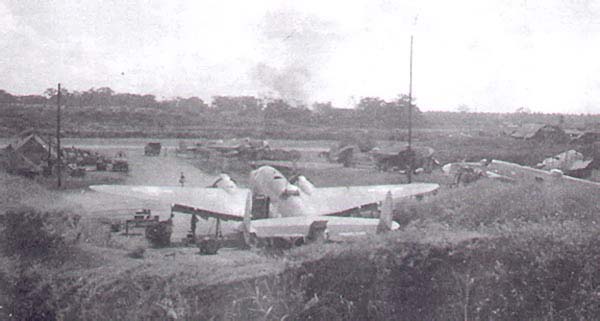 A later photo of Henderson Field on Guadalcanal (12 Servicing Unit were now the occupiers) late 1944. Note the extra growth on the earthworks. Photo via Kit McCready
1 Squadron at Ocean Field (Nissan, Green Island), carried out medium/low level bombing raids against both New Ireland and Rabaul, usually in conjunction with U.S. Marine B-25 squadrons in up to 50 aircraft strikes. Night heckling raids over Rabaul were also carried out over this period by single aircraft.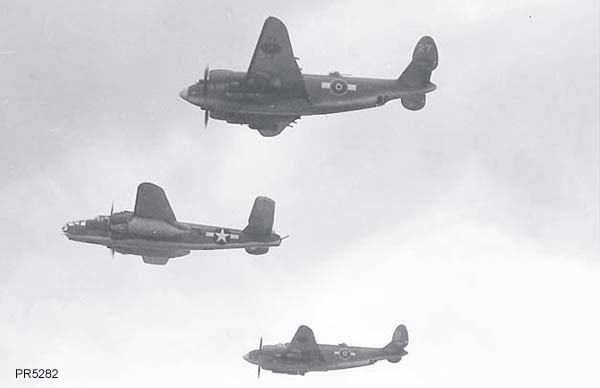 Two PV-1's of 1(BR) Squadron escort a USAAF B-25 over Rabaul, 19th March, 1945