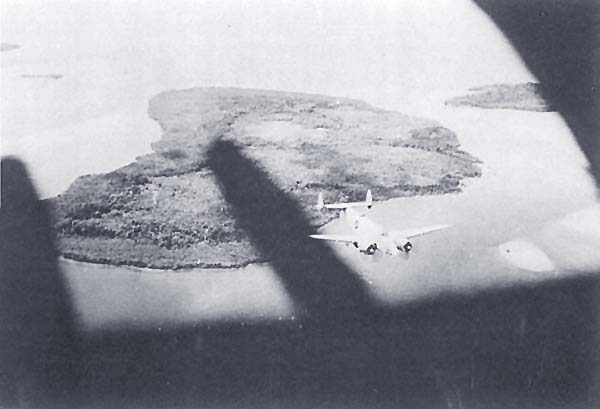 An air to air shot showing typical Pacific atoll scenery - aircraft are from 8 (BR) Squadron based at Emirau. Photo via Kit McCready
By March 1945, the RNZAF bomber force was gradually being reduced, due to their ground strike duties being able to be carried out by the new breed of fighter bombers such as the F4U-1D Corsairs then in service.
Orders placed for further aircraft such as the successor to the PV-1, the PV-2, were cancelled (after 4 PV-2s. were received) and all spare aircraft were returned to New Zealand for storage at Rukuhia.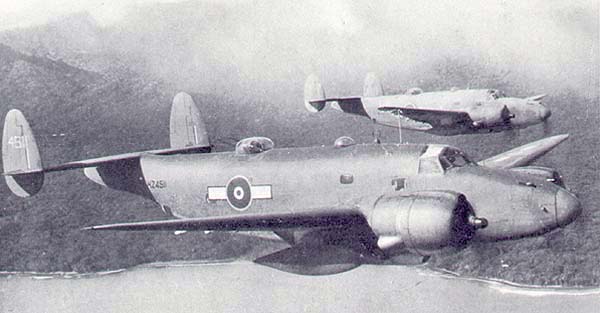 NZ4511 on patrol off the coast of New Georgia, late 1943
The last move by the Pacific Island based squadrons was in June and July when 3 Squadron shifted to Jacquinot Bay on the East coast of New Britain.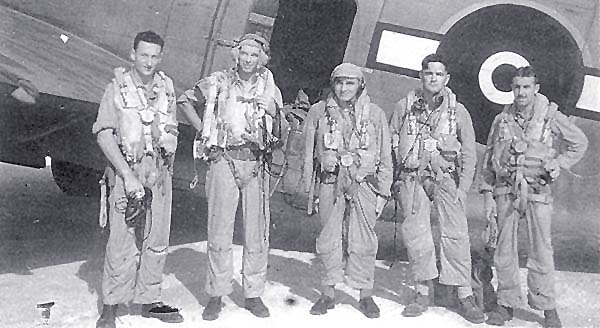 A crew from 8 (BR) Squadron. from L to R - Tom Lush (Pilot) , Owen Lewis (Navigator), Tom Shaw (WOP), Lindsay Ford (AG) and ? McDougal (AG). Note the usual RNZAF mixture of RAF and US flying gear. Photo via Kit McCready
By the Japanese surrender in August, there remained about 30 PV-1 s at Jacquinot Bay, and approximately 57 PV-1s and 22 RB-34s in New Zealand.
4 Squadron returned to New Zealand at this time, and was disbanded.
2 squadron was reformed to provide metrological flights, aerial surveys and search and rescue missions.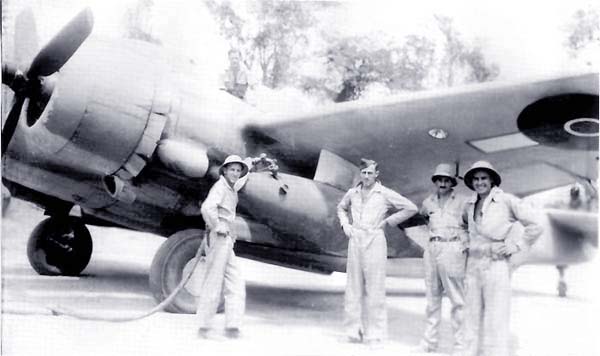 Some 1 (BR) Squadron personnel, Henderson Field, Guardalcanal. L to R ? Dunstan, Jack Register (Pilot), Ralf Yates and Ron Fenton. The crewman above the nacelle is unidentified. Photo via John Register.
The remaining airworthy Venturas were phased out gradually as they were replaced in 1946 by the DeHavilland Mosquito. The aircraft in storage were sold for scrap in 1948 and almost all were melted down. Those of 2 Squadron were scrapped in 1947/48.
The only one of all these aircraft to survive to the present day is NZ4600, one of the RB-34s! This aircraft has been restored to display condition and can be found at the Museum Of Transport And Technology (MOTAT) at Auckland.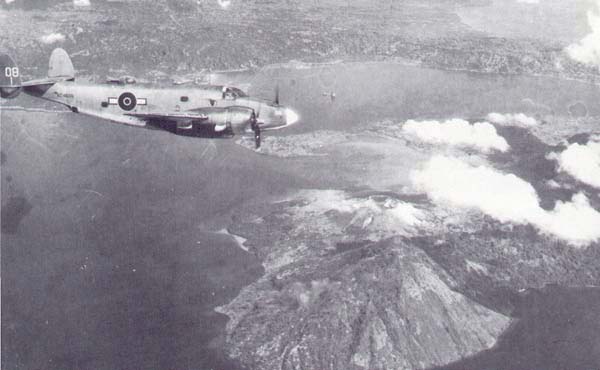 NZ4608 of 10(SU) over Rabaul Harbour. It was being flown by a crew from 2 (BR) Squadron based at Jacquinot Bay.