RB-34:
When first received, the RB-34A's were in the standard USAAF Olive Drab / Neutral Grey colour scheme. Roundels were standard RAF style (probably in equivalent US paint) in six positions - Type 'B' above the wings, type 'A' below the wings, and type 'A1' on the fuselage sides. Fin flashes were wide unequal proportion RAF style on the outer surfaces only. The last two numbers of the serial were painted on either side of the nose in White. The wording COASTAL PATROL was later added over the fuselage entry door in White. (See drawings A and B)
(For an overview of RNZAF roundels see SCALE DIMENSIONS Vol 3 No. 1, and NZPAF/RNZAF AIRCRAFT COLOUR SCHEMES Vol 3 ).
Most of these aircraft were repainted with (NZ) Blue Sea Grey uppers (approx Fs.35109 when fresh - this colour is close to RAF PRU Blue) and (NZ) Sky Grey (approx.Fs.35252) or (NZ) Sky (approx Fs.35299) lowers. The roundels were repainted in the Blue/White/Blue style with no white bars. The fin flashes were now in the thin RNZAF style. As NZ based training aircraft, they bore coding on the fuselage, usually in Black. The last two numbers of the serial were painted in Yellow on the fin/ rudder, and on either side of the nose. (Drawing C)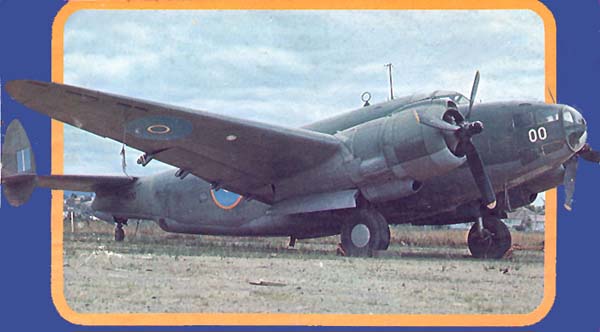 A photo from the cover of WINGS magazine showing the restored RB-34 at MOTAT (now displayed in hanger) Note odd wide Blue/White/Blue fin flashes - most were the narrow Red/White/Blue type, and White last 2 on nose. ( Via WINGS, June 1978)
PV-1:
The first PV-1 's were received in the US Navy 'Two Tone' scheme of Blue-Grey (approx Fs.35189) uppers and Light Grey (Fs.36440) lowers with RAF style roundels in six positions. (These were probably in equivalent US paints as they were added at Kaneohe NAS in Hawaii). (Drawing D). The fuselage roundels had a very small Red centre which was soon replaced by (NZ) Roundel Blue. Fin flashes were in the wide RAF style on the outer surfaces only. These were replaced by the thin RNZAF style on both outer and inner surfaces.



NZ4503 of 1 (BR) Squadron at Whenuapai, 7th June, 1943. Note wide fin flash and small Red centre to fuselage roundel. Appears to have RAF type 'C' roundel in under wing position, but may have been RNZAF Blue/White/Blue type as they had begun to appear at this time. These markings were short lived. De-icing boots were soon removed as superfluous in the South Pacific!
Most of these aircraft bore the Lockheed-Vega plant added Walt Disney studios cartoons on their rear fuselage sides. As most of these were sharply anti - Japanese, they were ordered to be painted over before the aircraft headed to the operational area due to the fear that if downed, and the crew captured, these cartoons wouldn't help to enhance their treatment at the hands of the Japanese. Most of these painted over areas show as a large patch of fresh paint in photos taken at the time.
NZ4510 onwards were in the new US Navy 'Four Tone scheme' of Ns.Sea Blue upper fuselage (Fs.35045), Semi-Gloss Sea Blue (Fs.25042) wing and tailplane upper surfaces with Ns. Sea Blue leading edges, Intermediate Blue (Fs.35164) fuselage and tail surfaces, and Ns. White (Fs.37880) lower surfaces with Ns. White counter shading on the fuselage under the wings and tailplanes. (Drawing E and F)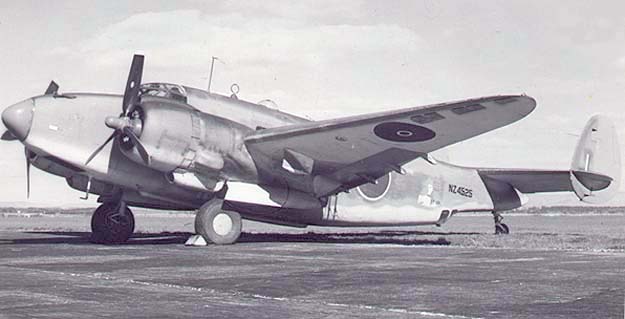 NZ4525 of 2 (BR) Squadron at Ohakea, September 1943. Has a soon to be removed Disney cartoon on fuselage. Colours are US Navy '4 Tone' scheme.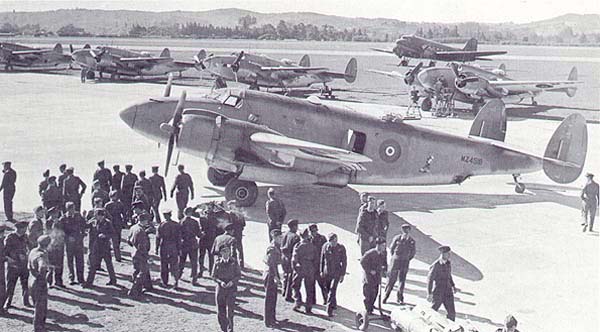 NZ4516 at Whenuapai. Note Disney cartoon and evidence of repainting of the fuselage roundel. Narrow RNZAF fin flashes on inner and outer surfaces. Centre two aircraft are in 'Two colour' scheme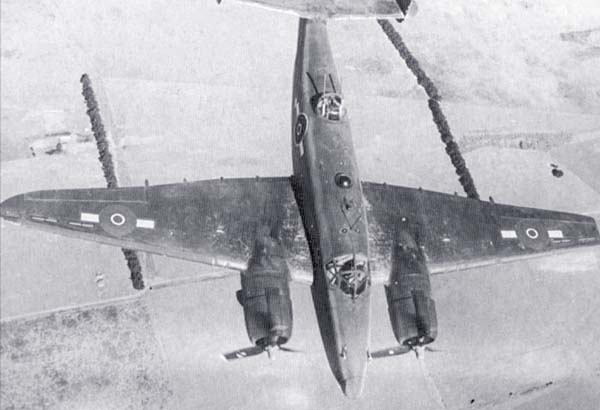 An upper view of NZ4563 showing roundel positions - Note centralised narrow bars, Ns.Sea Blue leading edges, and heavy scuffing on inner wing areas.
The roundels were in six positions and were in the Blue /White /Blue RNZAF style with a narrow Yellow surround on the fuselage only. When in the operational area, these aircraft received white bars added to the roundels, and most later additions had the Insignia Blue surround to these bars as the roundels were painted over the existing US Stars and Bars. (Drawing G and H).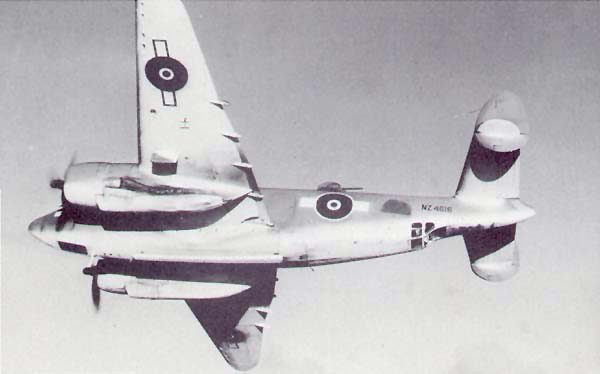 An underside view of NZ4616 - Note counter shading under wing and tailplanes in Ns. White, and area on fuselage where the cartoon has been over-painted.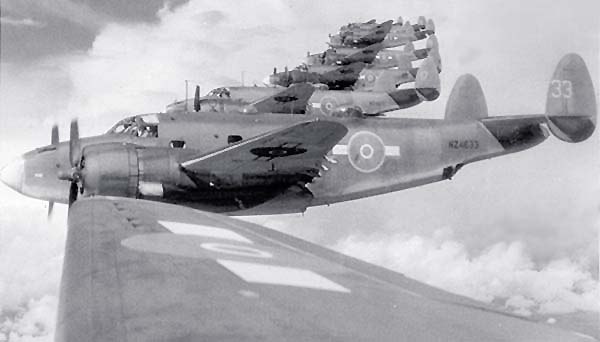 A line up of 14 (SU) aircraft being flown by 3 (BR) Squadron crews. The photo was taken on the return to Green Island from a Rabaul strike on 15th April, 1945.
Fin flashes were in the narrow RNZAF style on the inner and outer surfaces. Prop spinners were originally in Ns. Intermediate Blue, but during their service life were soon repainted or replaced by Natural Metal or Black. Props were Black with Yellow tips. NZ4510 - NZ4639.
Many of these PV-1's were repainted due to the action of the harsh climatic conditions in the Islands, the weather and the coral dust being a very abrasive combination. Most appear from photographic evidence to have been repainted in (NZ) Blue Sea Grey (Fs.35109) upper surfaces with either (NZ) Sky Grey (Fs.35352 a greyish green) or (NZ) Sky (Fs.34235 a light bluish green) lower surfaces. Both of these lower colours have been recorded as having been used on the Venturas. E.g. - NZ4503 and NZ4551 .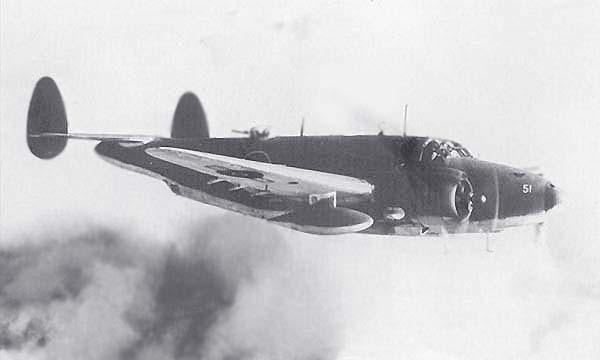 NZ4551 of 14 (SU) after a repaint in (NZ) Blue Sea Grey / (NZ) Sky Grey or (NZ) Sky. June/July 1944
Note: (NZ) Blue Sea Grey and (NZ) Sky Grey are two of the hardest of the WWII RNZAF paints to find modern colour matches for. I have used Warren Russell's notes in volume 1 of NZPAF / RNZAF AIRCRAFT COLOUR SCHEMES which gives Bs381c and HUMBROL mixes for these colours, and David Klaus's COLOR CROSS REFERENCE to convert the Bs381c notations to their nearest Fs595a numbers.